Phonothèque québécoise
Musée du son
Sauvegarder, documenter et diffuser le patrimoine sonore
---
From Mountain to the City: A Brief History of CJAD
by Melanie Fishbane and Mary Vipond
---
---
CJAD archives 1 340 K CJAD archives 2 (Jean Drapeau) 858 K CJAD archives (innovation) 376 K Biography 1 (Dupont) 376 K Biography 2 (Dupont) 358 K Program's extracts 1 109 K Program's extracts 2 (Cup of Coffee) 216 K Program's extracts 3 (Mix) 260 K Program's extracts 4 (Paul Reed) 305 K Program's extracts 5 349 K Program's extracts 6 305 K News 1 (FLQ) 323 K News 2 207 K News 3 (FLQ) 376 K CJAD clip 73 K : Tribute produced by CJAD with

Mark H. T. Mc Curdy, Jimmy Tabb, Brian Nelson, Jean Drapeau, Paul Reed, Phil Robert, Lone Green, George Balcon, Andy Barry, Rod Dewer, Frank Mc Cormick...
---
J. Arthur Dupont, founder of CJAD (181 K)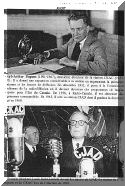 English radio in Montreal has a special and unique history that differs from that of English radio stations in the rest of Canada. While radio stations in other Canadian cities such as Toronto and Vancouver have to worry about the changing listening preferences of their audiences, English radio stations in Montreal have the additional responsibility of being attuned to the specific needs of an anglophone audience in a primarily French society and culture. While the francophone founder of CJAD, J. Arthur Dupont, was conscious of this in the 1940s, it has become even more evident since, as the English community has become increasingly aware of itself as a minority. This point should not be exaggerated, however. The format evolution of CJAD has generally paralleled that of other AM stations in Canada, and its emphasis on the station's role at the heart of a community is not unusual. Indeed, from the time of the first Broadcasting Act in 1932, local stations have been mandated to stress their local service, while the CBC/Radio-Canada was allocated responsibility for the national network. Nevertheless, CJAD does have the distinction of having risen to a position of dominance in the English-language radio market in Montreal which is rather atypical. Its management has been successful in positioning the station as the "Heritage Station," the station English-speaking Montrealers can trust "through the good times ... and the bad...." (CJAD in Brief, 2000)
Like most radio stations of its day, at the time of its founding CJAD provided Montrealers with current news, weather and commentary as well as with popular entertainment programs geared to audiences of all ages. In other words, it tried to be "all things to all people," offering a diverse mix of programs that would attract the largest possible total audience. Over the years, however, the station's programming has had to change with the times. With the rise of distinct FM formats in the mid-1970s, and the creation of its sister station, CJFM-FM (Mix 96), CJAD-AM had to "narrow" its programming and concentrate upon what it could do best, namely current affairs and other informational programs, while leaving the popular music to the FM station. The two stations remain in essence siblings in a large radio network, Standard Broadcasting, with stations not only in Montreal but in Toronto, Ottawa, Calgary, Edmonton, Vancouver and Winnipeg. CJAD-AM continues to be oriented to the spoken-word format while CJFM-FM is geared to the mainstream music scene that tends to be more popular with current audiences. Even so, because these two stations broadcast only in English, their objectives are the same in the sense that they aim to provide anglophone Montrealers with a public voice that helps create a sense of community. By using these two divergent formats, the current owners of the stations can ensure that they are reaching English-speaking Montrealers from a variety of different economic, age demographic and cultural communities.
This article will examine, in brief, the history of CJAD and focus on the evolution of its programming. By doing so it will show how CJAD exemplifies both the evolution of AM radio in the years since the Second World War and also the unique nature of English radio in Montreal.
Unfortunately, there is not a lot of information available on the early years of CJAD. In this way CJAD is typical rather than unique. Radio people are not very good at saving the voluminous and ephemeral products they produce; they often work in straitened circumstances and tightly squeezed space. Moreover, as happened with CJAD, fires can easily sweep through boxes of old paper. As a result, most of the following comes from the CJAD files in the National Archives of Canada, the Canadian Radio and Television Commission (CRTC) files, and from the tape CJAD staff made at the time of the station's fiftieth anniversary in1995. It is important to recognize that the material provided by those interviewed is from their own personal experience and often cannot be verified by any written documentation. This, however, does not make their comments any less valid than those sources found in archives. In fact, the testimonies of the previous employees can tell us much about the "nature" of the station and those who worked for it.
Since the early days of radio, CJAD has tried to project a certain kind of reputation. In a 1985 brief to the Canadian Radio-Television and Telecommunications Commission (CRTC), Allan Slaight, the owner of CJAD and CJFM, claimed that one of the strongest aspects of the station was "its outstanding professional staff and personalities who produced rare excellence in news and public affairs programming." He believed that Montrealers could look to CJAD for "balanced coverage and exposition of public values." (Slaight, 1985, 26) Obviously Slaight was making this point to the commission for the specific purposes of demonstrating why CJAD's licence should be renewed and of defending his recent controversial purchase of the station. But this accent on CJAD's strength in news and professionalism was not new; it was part of the personality of the station that had been constructed since 1945. Brian Nelson, one of CJAD's former broadcasters, commented upon how he felt when he began to work there:
The day that the microphone opened up for the first time, my heart just about leaped outside my body, because I had known how good the station was and I was well aware of the traditions of people like Paul Reid who were there. So, I had great trepidation in going ahead and accepting this job once I had (laughs) already agreed to do it. But I managed to work my way into it and it was a lot of fun. (Holder and Walter, 1995, side 1)
Melanie King's perception of CJAD when she arrived there also reflects this view:
CJAD meant the big time. CJAD meant that I had made it. I was on CJAD and this was real radio as compared to some of the other radio that I had done. And I was scared out of my mind. I wanted to say the right thing and do the right thing and I think I was probably too frightened to have said anything coherent the first time I came on the air. (Holder and Walter, 1995, side 2)
Yet another example of the same sentiment came from Dave Patrick, who moved from CJOH-TV in Ottawa to CJAD:
I don't think that I would have moved from TV back to radio for any station except CJAD. It was a "big deal" station. It had the reputation of being just a really solid solid shop. (Holder and Walter 1995, side 2)
While these comments are selective, they do suggest that for many years CJAD had a reputation in the Montreal English-language broadcasting industry of being committed to quality programming by a competent staff.
The testimonies of former CJAD employees describe the early years with a sincere fondness for CJAD and its owner and founder, J.A. Dupont (whose initials are immortalized in the station's call letters). For example, the date of CJAD's first broadcast, December 8, 1945, was apparently quite symbolic for Dupont because it was the date of the Immaculate Conception. Whether this is myth or fact is not the point; it is an important part of the station's oral history. H.T. (Mac) McCurdy, the station manager for CJAD until he left to become the president of Standard Broadcasting in the mid-1970s, said that Dupont chose the date because he was a religious man:
Biography 1 (Dupont) Biography 2 (Dupont)
Well, as I recall, the founder of the station, J. Arthur Dupont, was a very religious French Canadian Catholic gentleman and I think there is no doubt that he selected the date for obvious reasons, because of his own beliefs. (Holder and Walter, 1995, side 1)
Jimmy Tapp continues the story by describing the anniversary parties thrown by Dupont in celebration of the station's first broadcast:
One of my fondest memories of anniversary time at CJAD was on December the 8th every year, J. Arthur Dupont, my mentor, and I would say one of Canada's finest broadcasters and finest gentlemen ... he would walk up Mountain Street along St. Catherine to Peel and then up Peel Street up the mountain, up to the cross on the mountain. And that was the way he marked the occasion and, uh, after that it was party time. That was a pilgrimage that he did every year. The parties that he used to throw at the old LaSalle Hotel on Drummond Street were the envy of all Montrealers. (Holder and Walter, 1995, side 1)
When the station commenced operations, its studios were located in the Canadian Legion Building at 1119 Mountain Street, with its transmitter in Brossard. It had the frequency of 800 KHz from the beginning, but only 1000 watts of power at first (it went to 10,000 watts in 1955 and to 50,000 in 1964). While technically CJAD got off to a good start, apparently things were a little rockier in other areas. According to McCurdy, not only did the station have problems with its original programming concept, but who was eventually to run the station also became an issue:
The original concept for the station was a mixture of local and CBS American network programs. You know, programs like the "Lux Radio Theatre" and so forth. And at the last moment, the CBC, which was the governing body for Canadian broadcasting in those days before the BBG and before the CRTC, they turned down the CBS affiliation. Which CKAC had had, but as a French station they wanted to drop these English programs and go all French. So, having been sort of sabotaged at the eleventh hour we kind of limped onto the air and then of course to the rescue a matter of two or three days later, came Jack Kent Cooke, who was running the very successful CKEY in Toronto. And almost overnight CJAD became a clone of CKEY with what in those days was a new concept in commercial radio called "block programming." Instead of little fifteen minute programs, these were hour long or two hour long things like "Make Believe Ballroom," "Club 800," and "All Time Hit Parade." And news on the hour and all that kind of stuff. Of course Jack Cooke had a rather ulterior motive because I think he hoped to actually take over the station. So, while CJAD was attracting bigger and bigger audiences, a battle was going on behind the scenes for control. But Mr. Dupont won the battle to keep his station, and we went on and really never looked back. (Holder and Walter, 1995, side 1)
From this testimony, it is clear that Dupont wanted to build a station that accentuated quality programming, some of it from the United States, that varied from entertainment to information. With the help of Cooke, the station began to model itself after CKEY Toronto. CJAD was willing, or at least Dupont was, to try these new-style programs that were successful in attracting audiences. How much of Montreal's own sound was present during this period is unclear, but it seems from Bill Roberts, CJAD's former morning man, that the Montreal community was very important to Dupont:
Arthur was a broadcaster right down to his toes. And he fully understood that radio just wasn't a machine to grind out music; it was a machine that had a place in the community, had to earn a place in the community, had to have the respect of that community, and had to take it seriously. And in that context, CJAD grew up to become what it is today. (Holder and Walter, 1995, side 1)
Advertisement for CJAD (19 K)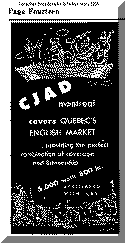 On April 12, 1948, Dupont received permission from G.C.W. Browne of the Department of Transport to broadcast an additional station with the call letters CJAD on the FM frequency. The CBC ordered that "the [new FM] station [was] required to carry simultaneously all programs broadcast by the station CJAD. No other programs [could] be broadcast unless permission in writing [was] granted by the CBC." (Browne, 1948) In the beginning, therefore, the AM and FM stations could not have different broadcasts without specific authorization. This arrangement, which was also made with other Canadian AM stations, was the product of the federal government's desire to begin establishing claims to the FM frequency despite the fact that few Canadians had FM receivers yet. CJAD-FM simply re-broadcast the offerings of CJAD-AM until 1975.
In 1960 illness forced Dupont to give up his idea of moving into television and to put CJAD up for sale; the purchaser was Standard Radio Company Limited of Toronto. In a statement made to the public on September 23, the company's president W.C. Thornton Cran said:
We are pleased to announce on behalf of Standard Radio Limited, the owners of this station, that we have concluded an agreement with Mr. J. Arthur Dupont, president of radio station CJAD Montreal, for the purchase of all the issued shares of CJAD Limited. By this transaction, Mr. J. Arthur Dupont is assured that CJAD Montreal will continue to be operated with the same high standards of programming and public service. And Mr. Dupont has agreed to continue as a director and consultant of CJAD. (Holder and Walter, 1995, side 1)
When the company moved the station up a few blocks to the corner of Mountain and St. Catherine the following year, they invited the city's mayor, Jean Drapeau, to say a few words:
It was with the greatest of pleasure that I accepted the kind invitation of the management to assist the day of the official opening of the new studios of radio station CJAD, and to pay a tribute to our good friend Monsieur J. Arthur Dupont, the founder of the first CJAD station in 1945. I am told that at that time the station began with 24 employees which have now been increased to sixty. Its original power was 1 kilowatt, increased to 5 kilowatts in 1948 and now is rated at 10 kilowatts. Without being an expert in these matters I have been able to realize that this station is equipped with the finest and most modern facilities. It has kept pace with every improvement and today is a leading English source of entertainment, information and an exponent of every phase of the arts. It is truly the sound of quality in Montreal. Without the least ... forethought, it strikes me that it took a good solid French Canadian to perfect a good English broadcasting station (laughter). (Holder and Walter, 1995, side 1)
Standard Broadcasting's purchase of CJAD meant that the station now had the resources to finance technical improvements while at the same time maintaining the tradition CJAD had been projecting under Dupont's leadership. One question remained, though. Could Toronto owners operate a station that adequately reflected Montreal's unique reality?
When the CRTC passed new legislation in 1975 to enable the development of FM radio as distinct from AM, CJAD responded in kind. In 1976 CJFM-FM began broadcasting under the CRTC proviso that the station would continue to broadcast primarily in English. Apparently the station requested that it could use some French as well, but this was turned down by the CRTC, which ordered that French could only be used on-air when referring to proper names and expressions. (CRTC, 1976-7) As we will see, there was a dramatic shift in format when the two stations separated in this way.
In 1978 the brothers Monty and Conrad Black took control of Standard Broadcasting (and therefore of CJAD and CJFM) via their holding company, Argus Corporation. While under the ownership of the Blacks, the station moved its studios to the present location on the corner of Fort and St. Catherine. In 1985 Standard Broadcasting was sold again, this time to Allan Slaight of Slaight Communications. There was some controversy at the time of Slaight's purchase because he bought the stock (84.8 per cent of Standard Radio's common shares) in March 1985, not waiting for the CRTC to approve the transfer of ownership. (CRTC 1986) However the CRTC did eventually approve the transfer in November of that year.
Slaight wanted to maintain the image that CJAD had built for itself as a first-class community station. In his 1985 brief to the CRTC, he stated that "While the shrinking English-speaking population has turned a major English radio market into a medium one, excellence prevails and CJAD's reputation continues to stand above the rest. (Slaight, 1985) From his remarks, it is evident that the face of English radio in Montreal was changing in part due to political circumstances. What was once a thriving industry was now dwindling. It is also clear, however, that Slaight assumed that the station could be profitable even in a "medium" market.
As stated previously, there has been a series of format changes at CJAD over the years. The first part of this section will outline the early years of programming, when CJAD had only an AM format; the second part will focus on the changes that occurred when the FM station became an element on its own.
CJAD's Fiftieth Anniversary cassette has a wealth of material on the station's early programming. The problem with using this source is trying to place the exact year or years when some of these programs were on-air. However, many of them lasted for many years - some over twenty - so there was certainly a considerable amount of program continuity. As well, the tape itself is constructed approximately chronologically, from the earliest years through to the 1980s. What follows therefore relies on the tape's time line.
In the early years, CJAD concentrated on two kinds of programs: first, political commentary, news and general information, and secondly entertainment programs sometimes geared towards younger audiences. Both types encouraged audience participation such as phone-ins. The two purposes were not always clearly separated out - some programs included both music and commentary, for example. Both were dependent, of course, on advertising, and both emphasized the station's goal of keeping its community both informed and amused. Some indication of the overall contours of the station's programming comes from a study done for the Massey-Lévesque Royal Commission on the Arts, Letters and Sciences in 1948-9, when CJAD was still very young. Out of a total of 7475 minutes on air per week, 700 minutes (9.4 per cent) was "serious" programming, 3095 minutes "popular" (41.4 per cent) and the majority - 3795 minutes (50.8 per cent) - recorded music. The ratio of 1 to 4.5 serious to popular was about average for stations of the type. (Royal Commission on the Arts, Letters and Sciences, 1951) This programming diversity, as we have already seen, was the hallmark of AM stations in the days before the arrival of FM enabled, indeed compelled, more narrowly targeted programming strategies.
The station's old jingles accentuated both diversity and the focus on Montreal. "Dial 800, that is one for one and all, at CJAD Montreal," for example, a jingle from the late 1940s, made these themes explicit. In the 1950s it was "CJAD, 800, stereo, the Beat of Montreal," and in the 1970s the disco-ish jingle, "CJAD the sound of 800 - 800 - 800," both of which emphasized the music entertainment aspect of the programming mix.
One of the earliest programs mentioned by Mac McCurdy was a show he did with Norm Keele called "In the Good Old Days." McCurdy described the early aspects of this show in a way that indicated how advertising was integrated into programming:
I think that program started, originally, as a thing called "A&P Calling," sponsored by, obviously, A&P stores, and then when that contract expired, then I think Simpson's picked it up. I may have this in reverse, but I know that those two companies were involved. (Holder and Walter 1995, side 1)
McCurdy also verifies the consistency of certain programs, such as the morning talk shows or news programs like "News on the Hour":
The first morning man was Maurice Bedard, followed a bit later by George Bishop. The first "Make Believe Ballroom" emcee was Ron Dunn, and that was followed later on by Don Cameron. Bob Harvey did "Club 800." Hamilton Grant did "News on the Hour." A guy named Terrence O'Dell from the CBC was one of the chief newscasters. Ron Laurier was one of the original program directors. All of us who were around at that time, I think we pioneered a few things that hadn't been done in broadcasting before which did attract people. (Holder and Walter 1995, side 1)
Bill Roberts' morning show was a blend of music and news commentary, but from the jingle, it seems that the program director wanted to focus on the musical content. Here are the lyrics of the morning tune:
Get out of bed, you sleepy head.
Time to be up and away. (Yawn)
Get up and smile, musical style
CJAD starts your day. (Yawn)
Music that talks, always the pops,
Use the time on Eight Oh Oh.
Start the day right, everything's right
Here on the Bill Roberts show. (Holder and Walter 1995, side 1)
The station also, however, promoted itself as "the most listened-to newsroom in Quebec," one that "spotlights the news at home and around the world." Rob Braide, currently CJAD's General Manager, says that one of the ways the station was always trying to stay ahead was by using new methods and technologies. McCurdy described some of these innovations:
We had mobile news cars with Sid Margles and Peter Shurman and Rick Leckner. We had weathercasts from Dorval and ski reports and editorials with Leslie Robertson. And traffic helicopter reports with Len Rowcliffe. Things that hadn't been done before on radio in Montreal. ... [Rowcliffe claims that he was] the first person in the world to broadcast from the Bell Jet Ranger. We, ah, leased our Jet Ranger in 1965, '66, somewhere around there. We figured we needed a faster machine because we were going to be covering a lot more territory with Expo '67 coming. And so we made arrangements with Lloyd Ayres (?) at Canadian Helicopters to get ahold of a Jet Ranger from the factory down in Fort Worth and that was one of the highlights of my stint at CJAD, was flying by helicopter in a brand new machine, it was Number 18 off the production line, from Fort Worth, Texas back to Montreal. (Holder and Walter 1995, side 2)
As stated previously, the station has tried throughout the years to project an image of a news-conscious professional station that was committed to bringing people the "truth." But plain unvarnished factual information can be boring for listeners. So, like many other radio stations CJAD has a considerable amount of commentary on the news as well, intended to stimulate debate and dispute. Leslie Roberts, for example, was advertised as "Canada's most controversial writer." Here, for example, is one of his early rather disrepectful comments on Canada's constitutional debate:
For a decade, Canada has witnessed a strange constitutional process which at times has had aspects almost ludicrous. We are talking about the British North America Act - the Canadian Constitution - so-called - and the fact that hitherto we have left the mechanics of amending it to the parliament in Westminster. (Holder and Walter 1995, side 1)
Another controversial commentator was Rod Dewar, who hosted a mid-morning show from nine to noon that consisted of "a pot-pourri [of] editorial comments," poetry and music. He suggested that his show was ahead of its time because it provided a genuinely alternative point of view:
It was unique, I think, for its time. Indeed, for any time. But it seemed to work and after a few years it developed a following of which I was very proud, and it met I think with general acceptance. But it was, at the same time, highly controversial. You see the thing is there were no left wing voices in Montreal at the time. Both the major papers, i.e. the Gazette and the Montreal Star, and I guess the Montreal Herald, were of a right-wing persuasion. So there was a vacuum there which I think the program filled until such time as we had more moderate approaches by the media. (Holder and Walter 1995, side 2)
The October Crisis of 1970 indicates how successful the station was at providing Montrealers with up-to-date information. Brian Nelson used the term "on the cutting edge" to describe the station's news role in the period; Rob Braide claims that the station "really took flight" during the crisis in airing the late-breaking news for both Montrealers and some of the American networks. CJAD had been affiliated with both NBC and the Canadian news network Standard Broadcast News for some time in order to receive national and American stories; in 1970 the station became the main provider of information about the October events to those two networks.
The October Crisis also led to a mini-controversy over the announcing of CJAD morning host Rod Dewar. Andy Barrie reminisced about the situation:
And then it was about three or four weeks later that probably the largest event in, one of the largest events in recent Montreal history took place, which was the beginning of my real broadcast career with CJAD. It was of course 1970, just a little more than twenty-five years ago. And Jasper Cross had been kidnapped and then Pierre Laporte murdered, the War Measures Act was declared, and the country was of course petrified, everybody believing that there really was a state of apprehended insurrection in Montreal, as Mayor Drapeau and Robert Bourassa said there was. Troops were in the streets. And it occurred to very few people to object to the suspension of civil liberties, but one person who did object was Rod Dewar who was then doing the mid-morning show. And he came on the morning after the War Measures Act was declared and he said "I went to sleep in a free country last night and this morning I have woke up [sic] in a police state." (Holder and Walter 1995, side 2)
Dewar's comments caused much concern among CJAD executives. Dewar continues the story:
News 1 (FLQ) 323 K
I was met by the station manager who said that we want you to take a week's holiday at our expense. And I said, "Well, I just had a holiday." "Well, we don't think it's advisable that you go on the air with what I know that you will probably say." So the switchboard was informed that I was on holiday and I somehow or other thought that this was not the right way to go about what was an embarrassing situation for one and all and a very tense one. I think "tense" is probably key. Because ... you know, we were all strung out like the proverbial violin string. I, uh, burst in on Andy and said that the excuse that the station had given on the note - he was asked to read this statement and also the switchboard had been instructed to tell callers that I was on vacation was not correct. That I had been silenced, muzzled, and whatever (laughs). Now, you know, on sober second thought down through the years, I know the station really had no option. I didn't know that at the time. But one of the provisions of the War Measures Act is that it cannot be publicly criticized and of course the station was on the horns of this dilemma. Because had they permitted me to go on the air, they could well have lost their licence. (Holder and Walter 1995, side 2)
Andy Barrie later replaced Dewar as CJAD's mid-morning man, but Dewar is still on air doing regular commentaries.
One additional dilemma for CJAD during the October Crisis - as for many stations - was whether to accede to the FLQ demand that their communiqués be broadcast to the public. Sid Margles, who was in charge of the newsroom at the time, remembers that CJAD eventually did so - but only after CKAC had broadcast the first one in French, apparently with the approval of the authorities.
In summary, then, it is evident that CJAD has put considerable energy into adopting technical innovations and hiring lively commentators in order to produce quality news and information programming.
On the other side of the programming agenda, CJAD was also interested in giving its audiences some lighter fare. Rob Braide thinks it ironic that "CJAD has often been mislabelled as "Your parents' radio station." He argues: "Statistics prove that CJAD has always had a broad appeal. This was never more evident than with 'Club 800' and its host Mike Stevens." Mike Stevens described that show as being targetted specifically to younger audiences:
"Club 800" began at 4:05 in the afternoon, ran for an hour, Monday to Friday, and then Saturday afternoon. When it was sponsored by Coca-Cola, it became the "Hi-Fi Club".... It was a teenage show and high schools were featured. Each high school had a rep that came to the ... show. And when we were at 1191 Mountain Street, the Legion main ballroom was used for the broadcast every Saturday afternoon. So, Monday to Friday it was a live show, and students after school could come in and sit in on the show. And Saturdays it was live from different locations, eventually, in the Queen Elizabeth Hotel, and that ran for many years. (Holder and Walter 1995, side 1)
One of the highlights over the years that CJAD is particularly proud of was the 1963 "extravaganza," "Shower of Stars," hosted by Bill Roberts, Vance Randolf, Mac McCurdy, and Rod Dewar. The station sponsored a variety of performers such as Denny Vaughan, Carmen Dragon, Lorne Greene, Mitch Miller and Allan King to come to Montreal to support the Quebec Society for Crippled Children. The station also put together its own 60-piece concert orchestra for the occasion. Braide explains that it was highly unusual for such an expensive program to be fronted by a local radio station. But as Bill Roberts points out, it was a great way for the station to promote itself. "You've got to put it into context. You know the way every time a show comes into any place now, a radio station promotes it, well, at that time it didn't work that way. The radio station in fact became the promoter." (Holder and Walter 1995, side 1) McCurdy, who was then the vice-president and general manager of CJAD, also commented on the success of this event:
Well, you know, it cost a lot of money in the final analysis between the cost of the show and a donation to a charity, between the promotional budget for the station - it kind of all worked out. Per se it didn't make money. But if you said, okay, we're going to spend x number of dollars to render some sort of public service in the next six months or the next year promoting CJAD, then if you took that budget and added it on to the gate receipts for the program, it worked out all right. (Holder and Walter 1995, side 1)
Thus, CJAD was enhancing its image by showcasing people who they felt provided its kind of entertainment, as well as by doing something for the community it wished to represent.
Paul Reid's evening show remained on air for over twenty years; it is considered to be one of CJAD's most successful programs ever. Reid's former co-worker, Tom Armour, described the special nature of this night-time program:
The really wonderful thing about working with him is that you had no idea what was going to happen next on the show. Monday to Friday it was usually music and then later poetry and romantic music late at night, but there was no guarantee that was every night. I mean Gordon Lightfoot might come in one night and they'd sit and laugh for three hours, Tony Bennett one night. Anyone who came to town, if he could get them in for an interview; a lot of sports personalities, Paul loved sports. A program that was designed with music and poetry in mind all of a sudden would be tossed aside you know while Bernie Faloney the quarterback would come in and talk football strategy for two and a half hours. But people didn't seem to drift away from that. (Holder and Walter 1995, side 2)
CRTC files record some of the story of the relationship between CJAD and the regulatory body, a story which is similar to that of all Canadian stations but which also has some unique features. Among other things, the CRTC kept a sharp eye on the rule that AM radio stations had to devote 30 per cent of their music to Canadian content (this was raised to 35 per cent in 1999). Canadian content (Cancon) is defined by the CRTC according to the MAPL system: M stands for music, A for the artist, P for the performance location and L for the lyrics. To qualify as Canadian content, at least two of these four elements must be Canadian. The CRTC also requires that stations air a certain proportion of Canadian content music during peak hours; they are not allowed to hive it all away into the middle of the night. In the late 1980s CJAD ran into some trouble with the CRTC over two songs by Anne Murray, "Take Good Care of My Heart" and "A Little Good News," which the station claimed as part of its Cancon percentage but which did not in fact qualify. Jeff Vidler, the program director, responded to the regulator: "As I'm sure you can appreciate, there was a natural assumption operating that because they were recorded by Anne Murray, the songs were in fact Canadian." (Vidler 1989) More serious was the complaint from the CRTC that on April 5, 1989, only 17 out of 61 selections, or 27.9 per cent of the music, played met the Cancon rule. Moreover, in the peak 6 to 10 a.m slot, only 1 out of 15 selections was Canadian (6.6 per cent) while late at night when few were listening, 40.7 per cent of the music was Canadian. (DesRoches 1989) This one was handled by General Manager Rob Braide, who defended the station by arguing first, that the station was not primarily a music station, secondly that their normal overall Cancon average was 31.1 per cent, and thirdly that they only fell below the required level because of the disallowance of the Anne Murray songs. Additionally, he pointed out that the imbalance in Cancon music programming on April 5 had been due to the fact that it was an atypical day when special programs altered the usual schedule. (Braide 1990) One can sense a note of exasperation in these letters; they may have helped impel the station's decision to move to a talk format and drop music entirely.
The CRTC also imposed other requirements on CJAD. Whenever the station's licence was renewed, it had to give the regulator a detailed itemized list of all its programs, for example, including how many people the station employed and at what cost. As well, there were special category obligations, such as advertising community events and airing "hobby" oriented shows. The station's licence applications therefore can tell us much about what the station was actually up to.
On December 4, 1984, CJAD's licence renewal application to the CRTC listed the following information. The station provided local, regional, provincial, national and international news for its audience for 21 hours a week and "most" of its operations budget went to news. It employed sixteen news staff, including one news director, eleven full time reporters, three part-time reporters and one based in Quebec City. News was read once an hour with links to Standard Radio's Broadcast News and other news services such as Canadian Press, UPC and Telbec. In addition, CJAD received "background" network material about business, cars, lifestyles, fitness, the environment, etc. from Sound Source, Standard Radio's syndication organization. The station was involved in many community events such as birthday announcements, entertainment reviews, and Eastern Township calendar announcements twice a week; what the station claimed were "liberal amounts" of free time were also given to a variety of organizations and foundations throughout the year. (CRTC, 1984) The station fulfilled its "hobby" requirement by airing a weekly five-minute gardening show, as well as a show on personal computing five times a week.
By this time most of CJAD's programs were oriented towards talk show or open-line format. This included weekly 90-minute news and public affairs shows that concentrated on detailed backgrounders on civic events. There were also editorial comments at 7:10 am, 8:10 am, 12:15 pm, 5:10 pm, 5:45 pm, and 11:10 pm Monday to Friday; on Saturday and Sunday at 12:15 pm there was a rebuttal time so that listeners could respond to the views expressed in the editorials.
The station also devoted a lot of time to sports (27 hours a week), and had 3 full-time and 2 part-time sports reporters. Sports reports ran on the hour and half-hour beginning at 5:55 am until 8:25 pm Monday to Friday. There were three sportscasts in the afternoons Monday to Friday at 4:25, 4:55 and 5:55 pm and each week night had a Sports Magazine.
In the mid-1980s, 88.5 hours a week of CJAD's air time was devoted to music recorded since 1960. There was also a Sunday evening three-hour program produced exclusively for CJAD by a freelance non-staff broadcaster (Rod Dewar) which concentrated on the popular classics, mostly from the Baroque to the Romantic periods, called "Starlight Concert."
By the 1990s, CJAD's commitment to providing informational "talk" oriented programs was complete. In a fax dated October 22, 1996 to Lucie Audet of the CRTC, Rob Braide outlined the station's current programming. From 5:30-9 am, the "George Balcan Breakfast Show" which included sports with Ted Blackman, entertainment with Bill Brownstein and "Montreal's only helicopter traffic reports with Rick Leckner" was aired. (Braide 1996) From 9 am to noon, Avril Benoit hosted a show interviewing a variety of guests described as "Actors, Athletes, Authors, Musicians, Politicians, Physicians." The show also provided an opportunity for listeners to phone in to speak to the guests and offer their opinions on what was being discussed. On Fridays at 10:30 am, Dr. Joe Schwarcz was the regular guest to discuss chemistry in daily life. From 1 to 4 pm Tommy Schnurmacher had his phone in-show focusing on Quebec political issues. From 4 to7 pm, Jim Duff announced the drive home show, which discussed the current hot stories, and interviewed some of "the day's top news makers." From 7 to10:30 pm, Peter Anthony Holder had an interview and call-in show. The programming day ended with the airing of "Montreal Nightside" from 10:30 pm to 2 am. Rob Braide accentuated that the news was broadcast every 30 minutes and that there were live broadcasts of sports events including Canadiens hockey with Dick Irvin, Dino Sisto and Jim Corsi and Alouettes football with Rick Moffat and Tommy Kane. He also advised the CRTC that "Montreal's Top Commentators" often made appearances - including Professor Graeme Decarie, Rod Dewar, Robert Libman, and Gord Sinclair (Sinclair was news director of the station).
Thus CJAD had switched completely to a talk radio format by the mid-1990s. There was a great deal of emphasis on the political issues affecting residents of Montreal, particularly anglophones, especially on Tommy Schnurmacher's show, where host, guests and listeners regularly expressed their concern about their future in Quebec and much attention was paid to anglophone organizations like Alliance Quebec, the Equality Party and to "hard-liners" like Howard Galganov.
While the station had always provided news and political commentary, in the 1990s this was supplemented not by music but by "lighter" talk material. As an AM radio station, CJAD has had to fight against growing listener apathy towards not only the AM frequency but radio in general. One of CJAD's solutions to this problem has been to hire younger hosts and announcers (e.g. Mark Rennie, Ricky Cyr) and to give regular weekly slots to astrologers, etc. Most importantly, CJAD has increasingly turned to syndicated programs such as Dr. Laura Schlessinger's phone-in show on ethics and morality. Such shows garner good ratings and great advertising income while being relatively inexpensive to purchase. But one wonders what community ties or local roots are developed from them.
CJAD still has a reputation for quality programming and a well informed professional staff. It has always prided itself on the "heart-warming and refreshing" camaraderie and teamwork among its on-air personalities. (McCurdy quoted on Holder and Walter 1995, side 2). Peter Shurman, a former general manager of the station, highlighted the way the station has always reflected what was going on in the community, becoming what he called "a focal mirror" to its audience. (Holder and Walter 1995, side 2). The station's Website now emphasizes that listeners perceive the station to be "a home," "one of the family," and "a good friend." (CJAD in Brief) The station has been all these things and more in the fifty-five years since it was founded by J. Arthur Dupont. Above all, as Bill Roberts put it, the station "was, is, and always will be the dominant force in Montreal English radio." (Holder and Walter 1995, side 2)
Braide, 1990. Letter to Anne Marie DesRoches, CRTC, January 8, 1990, CRTC Station Files; CJAD No. 6240.
Braide, 1996. Letter to Lucie Audette, October 22, 1996, CRTC Station Files, CJAD, No. 6240-X199.
Browne, G.C.W., 1948. Letter to J.A. Dupont, April 12, 1948, Keith A. Mackinnon Papers, National Archives of Canada, MG 31 J42, Vol. 16, file "CJAD Radio Montreal, 1952-59.
CJAD in Brief, 2000. CJAD Website, www.cjad.com; accessed May 12, 2000.
CRTC, 1976-7. Decisions, pp. 210-1.
CRTC, 1984. CJAD Licence Application, December 4, 1984, CRTC Station Files, CJAD, vol. 8, 1984-86.
DesRoches, 1989. Letter to Rob Braide, December 21, 1989, CRTC Station Files, CJAD No. 6240.
Holder, Peter Anthony and Andrew Walter, 1995. "The CJAD Story - The First Fifty Years," audiotape.
Royal Commission on the Arts, Letters and Sciences, 1951, Report, Appendix.
Slaight, Allan, 1985. Brief to CRTC, CRTC Station Files, CJAD vol. 7, videotape.
Vidler, J., 1989. Letter to Marcelle Gagné, CRTC, December 18, 1989, CRTC Station Files, No. 6240.
---
---

Tous droits réservés
© 1997 Phonothèque québécoise / Musée du son.
Mise à jour le 29 juillet 2004
URL http://www.phonotheque.org/Hist-radio-anglo/Mountain-City-CJAD.html