Phonothèque québécoise

A Sound Archive
Preserving, documenting and sharing our sound heritage
---
CKAC's first decade (1922-1933)
Public-spirited private radio
created by Jacques-Narcisse Cartier
by Pierre Pagé, professor at the Université du Québec à Montréal.
---
Sound clips (in French)
Conte de Noël 189 K St-Valentin 64 K Chronique (Robe) 37 K Chronique (sous-vêtement) 144 K / Chronique (tissu) 135 K Animation 108 K Commentaires (femmes et élections) 135 K / Chronique (Jupe) 117 K Chronique (Globe) 171 K : Excerpts from the show "En parcourant les magasins" (variety and consumption) hosted by Jacques Catudal and Anne Richard, CKAC, 1948 to 1949 at the Archives nationales du Québec, Young & Rubicam Fonds
Actualités (2e guerre mondiale) 394 K Actualités (guerre - R.U./ UK) 376 K Actualités (Hitler) 242 K Actualités (guerre et radio) 233 K Actualités (espion à Régina) 242 K Actualités (publicité) 109 K Actualités (chômage) 287 K Actualités (McKenzie et guerre) 224 K Actualités (indicatif) 135 K : News broadcast hosted by Jean Nolin, CKAC, about 1940, Phonothèque québécoise, Legris- Pagé fonds
---


(169 K)
Introduction
The 1997 anniversary of radio in Quebec is an opportunity to look back at the beginnings of an important cultural institution, to understand the founders' original intentions, to appreciate the nature of the driving forces and orientations that were expressed in the early years through organizational structures or through creative output.
This kind of analysis and reflection has nothing to do with a nostalgic look back at the past or a desire to return to the good old days. Methodically collected information about the early forms of radio will create a body of knowledge that contemporary society needs if it wants to evaluate the path already taken and to expand the boundaries of current practice. If we take the trouble to get to know it, history can enlighten us about the different kinds of relationships a medium may have with its host society.
This research on the origins of radio broadcasting has encountered many obstacles. The founders of radio in Quebec and Canada have been almost completely ignored, their thinking is unknown and their actions have not been studied. Politicized historical discourse has in general predominated. Above all, analysis is difficult because of the cumbersome obstacles presented by a large number of errors, errors of fact or of interpretation, that have been making the rounds for a long time in various publications that unfortunately are widely read.
These errors have to do first of all with the personality and the role of CKAC station founder, Jacques-Narcisse Cartier. They extend as well to his immediate successor, J.-Arthur Dupont. Equally serious and widespread errors abound concerning the dating of radio station CFCF, the Marconi company and its main experimental station, XWA. Finally, the errors extend to a strangely faulty reading of the early years of CKAC, which some describe as "improvisation," despite the clear professionalism of the station's owner, the influential newspaper La Presse.
Host Gilles Proulx, in his books on the history of Quebec radio, has given us anecdotal accounts and erroneous shortened versions of events. The likeable Roger Baulu, in his book on CKAC, has recounted facts related to the origins of the station as though they were memories, even though he did not experience these things personally. Leonard Spencer edited his memoirs at the end of his life, giving himself a disproportionately important role. There have been two or three Masters theses that people continue to cite without bothering to check their sources. All of these faulty information sources mean that the early years of radio broadcasting have been described based on a lot of faulty data. For example, despite the great respect I have for my colleagues, I must correct the statement made by Jean-Guy Lacroix (1993 and 1980), repeated by Michel Sénécal (1995) that goes so far as to say that CFCF's licence was granted to Marconi by the U.S. Federal Communication Commission. Similarly Michel Filion (1994), author and archivist in Ottawa, continues to maintain, among many other imprecisions, that the first broadcast licence in Canada was granted in 1919 to Marconi for the experimental station XWA. In fact, this licence was granted in 1915, at which time there were already 47 experimental licences in Canada, 18 of them in Quebec. A manual published at Télé-Université by S. Douzou and K. Wilson (1994) should also be mentioned. It locates the beginnings of CKAC in 1923 instead of 1922, and shamelessly states that the first Marconi-XWA broadcast took place in 1918, right in the middle of war time. Many other references could be cited to illustrate these errors, which often spring from a desire to claim that XWA was the first radio station in the world, or that CKAC was the first French-language station in the world, both of which statements are false.
In the December 1966 issue of Fréquence-Frequency, I published a systematic rectification of these errors for the Marconi stations. However, many other historical aspects of the origins could be expanded upon if the newspaper La Presse would finally agree to open its administrative archives for this period to historians, and if CKAC would give access to its historical board of directors files.
But for CKAC, created in 1922 in Montreal by the newspaper La Presse, we need to push the analysis further. More than just another medium, this was truly a cultural institution that long remained closely woven into all levels of Quebec society. Further, this station created by Jacques-Narcisse Cartier for the newspaper La Presse, established a Quebec model for programming, a model firmly rooted in regional cultural resources and clearly oriented as a public service. Finally, it is interesting to point out that the year 1922 is also the year in which the new radio medium was born in England, with the BBC, in France, with Radio-Paris and Radio-Tour-Eiffel, and as well in Switzerland, in Spain, in the U.S.S.R., in Denmark and in Germany. In the United States, stations began to emerge starting in 1920 and by 1922 there were several hundred in operation.
[ Return to summary ]
1) 1922, the defining moment for a new medium
By 1922, it had been twenty years since wireless telegraphy technology and then wireless telephony, which was invented in Europe, had been tried in Quebec. Wireless technology was used in industry and in university laboratories (at Laval University since 1899), and it was taught in colleges and academies. Wireless technology returned to civilian society at the end of the 1914-1918 war, more precisely on May 1st 1919, when the federal government abolished the restrictions that had been put in place for military reasons. In the United States, big businesses were busy selling their war surpluses, thus creating a market for civilian uses that would in turn prompt the creation of many radio stations. In Canada, the federal government modified its regulations in 1922, authorizing the dissemination of wireless telephony to the general public. "Broad-casting" was became legal. In April of that year, the federal government granted 22 broadcasting licences, among them to CKAC (La Presse), CFCF (Marconi), CJBC (Dupuis Frères) and CHYC (Northern Electric). Over the course of the year in 1922, a total of 61 licences were granted. It is equally important to stress that special licences were granted to 13 training schools in Canada, 7 of these to Quebec.
One fact should be singled out for special mention: among the licences awarded in 1922, many were acquired by the big newspapers like La Presse, the Toronto Star, the Evening Telegram, the Manitoba Free Press, the Vancouver Sun, and the Edmonton Journal. This is the exact moment when radiophony, something well known to engineers, crossed paths with the newspaper, a fully mature medium that had expertise in disseminating content. This intersection enabled the birth of a new medium, broadcast radio.
[ Return to summary ]
Jacques-Narcisse Cartier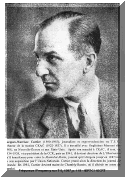 (168 K)
2) The job of creating CKAC is given to an internationally-known expert, Jacques-Narcisse Cartier
In order to launch the new medium successfully, it wasn't enough for La Presse to make a considerable investment in technology – which it did in giving a big contract to Marconi. There was also a need to create programming, to imagine the social function of this new medium, without which the world had nonetheless lived very well for a long time. The President of La Presse called upon one man to imagine, organize, host and manage the project. Jacques-Narcisse Cartier was a journalist and an expert technician who was well known in specialized circles at the time. The newspaper the Montreal Herald had published an article about him in April of 1922, before CKAC was created.
In 1922, Cartier was thirty-two years old. He had fourteen years of experience behind him, a dozen of these in the international arena. He was an exceptional personality, brimming with audacity, imagination and independence. A native of Sainte-Madeleine, near Saint-Hyacinthe, he was recognized as an expert in the United States, England, Germany, France and Canada, above all in military circles. He had fought the entire war as a volunteer, from the fall of 1914 to the winter of 1919, in the Canadian Expeditionary Force and then in the British Air Force, where he was attached to their counter-espionage service. After studying at the scientific and commercial academy in Saint-Hyacinthe, he left for Nova Scotia, where he learned the techniques of wireless telephony with Marconi himself. He quickly became a star among the staff of the company. He also formed a close and lasting friendship with David Sarnoff, one year his junior, who in the 1920s would become managing director and then president of RCA in New-York. Cartier himself had worked for many years in New-York, for the American Marconi company and also for the German company Telefunken. When he arrived at La Presse in 1922 to create CKAC, Cartier brought with him his knowledge of radio in New-York (where he collaborated in the creation of two stations). He had visited the South American stations, in particular those in Brazil, with an American financier and he also knew the British, German and French technologies.
Radio schedule (93 K)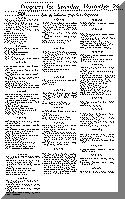 3) An original, professional programming model
The challenge that Cartier faced when he arrived at CKAC was substantial. This was not just an engineering job where what mattered was to guarantee the reliability of the technical equipment. Cartier had to create a medium, which meant programming. From the moment the station was launched, on October 2, 1922, Cartier had a global plan. He had established contacts with many artistic, scientific and social milieux that could feed into his programs and find a natural extension of their reach through radio. Starting in November, he mailed out personally signed postcards announcing CKAC / La Presse's official program.
Jacques-Narcisse Cartier (131 K)
From the outset, CKAC focused on sound quality and associated itself closely with music. Every other day, Montreal's best performers would come and play classical music live.
As conceived by Cartier, the studio decor had very much the look of an elegant living room at the Windsor Hotel, or the Ritz, where concerts were given, with rugs and velvet hangings. Cartier, who was a man of the world, saw to it that this studio quickly became a coveted venue for politicians, great performers, writers and financiers. It was a curiosity of Montreal modernity that visitors of note absolutely had to see. At the same time, in late autumn, Cartier installed a tubular Casavant organ in his studio. Great Quebec and European performers would come to play it. Thus music, always live needless to say, was at the heart of the birth of radio.
Theatre was soon introduced to the studio as well. On April 5, 1923, Cartier produced the first radio play broadcast in Canada. It was an important play and those in the know appreciated it for its true political significance: Félix Poutré, by Louis Fréchette, a work focusing on the rebellions of 1837.
Starting in the spring of 1923, Cartier reached an agreement with musicologist and music importer Raoul Vennat to air a weekly broadcast of French contemporary music. This show brought together professional musicians from Montreal to play works recently published in France. The series was highly successful and CKAC's powerful signal allowed it to reach the populations of French Canadians dispersed in New England. The show made such a powerful impact that Westinghouse decided to launch its new station in Springfield, Massachusetts, with an evening-long concert given by Raoul Vennat's team, produced by Cartier.
The music was even more spectacular when, in June of 1923, Cartier produced a famous operetta at CKAC, Les Cloches de Corneville, with an orchestra of 25, a chorus of 38 singers, and professional soloists. One can imagine the feats that had to be accomplished to set things up properly to record sound from such a large group using the equipment available at the time.
There is much more to be said about the music programming at CKAC, to give a sense of how rich it was. We should mention the agreements struck with the orchestra of the Conservatoire national de musique, affiliated with the Université de Montréal, with the Société canadienne d'opérette, with the private schools Jeanne-Maubourg Roberval and Mont-Saint-Louis. We should also mention the clever agreements worked out with shipping companies in order to be able to broadcast dance music on Saturday nights, played by ship orchestras docked in the port of Montréal. And then there was the satellite music studio created at the Brasserie Frontenac, today the Maison de la culture Frontenac, where popular concerts were given when the orchestras were too big to fit into the La Presse studio.
A word should also be said about a series of concerts that was long held to be an important social event in the life of Quebec, a provincial concert that lasted six months in 1924. Every two weeks over this period, the best brass bands from Quebec's major towns came into the studio, accompanied by their mayors, to participate in a concert judged by the public by means of a popular vote. La Presse received tens of thousands of votes.
Finally we should mention a bold initiative, a first in North America: using radio to give music lessons. For thirty weeks in 1925, the internationally-known pianist Émiliano Renaud, gave a series of courses based on a manual distributed by La Presse, and illustrated with specific examples using excerpts of works played live.
The foregoing elements give but a small example of CKAC's music programming during its first five years. All of this is not far from cultural programming that might officially be called educational.
In addition to music and theatre, Cartier, who came from a family that was highly engaged in the world of politics, which he knew well, set up a whole series of lectures in 1925. The series dealt with the regions of Quebec, their natural resources and tourism, and were given by politicians in each of the regions. It is startling to note how successful this initiative proved to be, so much so that in 1927, when Cartier retired, the Montreal Gazette's appreciation of his career mentioned this series as an important element of his work.
Using music and theatre, discussion about the regions, lectures on such topics as economics or hygiene, Cartier made his radio station into a kind of forum. Here all categories of citizens, organizations, associations, institutions and the regions all found a place. This was community building, articulating and sharing the resources of the community, in line with what is now the tried and true model of community radio.
A picture of the programming of this era would be incomplete without mention of a great technological and editorial first that took place in 1925. This was the broadcasting of the federal election campaign and the live show on election night. It was an epic performance. In order to follow the election rallies in the different centres across the island of Montreal and in the surrounding towns of Joliette, Sorel, Saint-Hyacinthe, and Saint-Jérôme, Cartier, together with Marconi, created a "mobile unit", similar to the ones in use today but without the miniaturization. The equipment weighed 1800 pounds (850 kilos) and was transported in a truck. A 5-person team, led by Cartier, produced the shows. In October, the team produced the broadcast of a huge political rally at the Forum in support of Mackenzie King, attended by 18,000 people. Starting from this moment, all political organizers knew that they would have to contend with the medium of radio.
All of these programming elements represent but a small percentage of what had to be created in order to produce a medium that mattered to a society. Nonetheless, they do give an idea of Cartier's boldness and of the many directions he explored in order to make radio into a viable institution. We may, then, synthesize Cartier's editorial vision without over-simplifying it by citing an excerpt from a presentation Cartier made to a parliamentary committee of the House of Commons in Ottawa, entitled "Le rôle véritable de la radio dans la vie d'un peuple".("The true role of radio in the life of a people.")
"In the case of La Presse as it is for all the other newspapers, the goal of the radio station is above all to provide the public with free recreation and to promote harmony in the land among people of different races and religions.
... Radio is always available to the municipal, provincial or federal authorities, who can thus communicate first-hand information to the people, information that can educate or interest them."
In 1927, Cartier left his job in order to care for a serious illness he had contracted: tuberculosis. He returned to his house in St-Gabriel-de-Brandon for two years and was able to conquer the disease. He would return to radio on a number of occasions for major events: to cross the Atlantic as a reporter on the British dirigible the R-100 (that would crash 6 months later) and in 1935 as vice president of the public broadcaster, the Canadian Radio Commission. But Cartier would pursue his career in the media above all by becoming managing director and then president of the newspaper Montréal-Matin, from 1941 to 1947, and the of the newspaper Le Canada. He died at the age of 65 in 1915, in the middle of his mandate as mayor of Chambly-Bassin.
But when Cartier left CKAC in 1927, he had prepared his succession well. Joseph-Arthur Dupont, his assistant since 1924, succeeded him and considerably enlarged the scope of CKAC by consolidating its cultural identity. Dupont had many years of experience with all aspects of the trade. He had been announcer, host, journalist and technician, especially during the famous series of reports for the 1925 election campaign. Like Cartier, he took care to speak a perfect French, he had the same excellent knowledge of English and the same passion for the radio, which would be the one professional activity of his career. Cartier et Dupont, Quebec's first two media men.
For the oldest among us J.-Arthur Dupont is rather known and one thinks spontaneously of the radio station he founded in 1945, CJAD, and that is identified by his own initials. This was long the source of the best English-language news about Quebec. When Dupont sol dit in 1960, it became something else entirely.
[ Return to summary ]
Joseph-Arthur Dupont (181 K)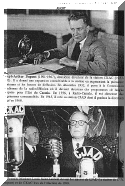 4) Under Arthur Dupont from 1927 to 1932
In 1927, Dupont took over the management of CKAC and conducted many major operations in parallel. At the same time, he expanded public service broadcasts and also enhanced the station's profitability.
Dupont's first major move was to increase CKAC's broadcast power and to build the antennae of the Saint-Hyacinthe transmitter. CKAC went from 500 watts to 5000 watts. It thus became the most powerful station in Canada and was able better to reach the French Canadians of the New England diaspora. Broadcasting began on October 19, 1929. Thanks to its exceptional reach, CKAC became from then on a mass medium that could communicate with the bulk of the population of Quebec. At the same time, Dupont doubled the number of broadcast hours, expanding to 12 and then 14 hours a day. In 1930, Dupont lodged an official request to receive authorization to grow from 5000 to 50000 watts.
Expanding the audience and increasing the number of broadcast hours, these form a solid base for a station that wants to turn a profit. However, it was in the area of programming that Dupont made his most decisive moves. In 1929, he reached an exceptional agreement with the Quebec government, which had just adopted its radio broadcasting law, to broadcast a vast educational series in two one-hour shows each week. This was "L'Heure Provinciale", a mixed series of lectures and concerts by Quebec performers. Responsibility for the scientific component was given to Édouard Montpetit, head of continuing education and secretary general of the Université de Montréal. Music was under the direction of Henri Letondal, an exceptional cultural spokesman. For ten years, from 1929 to 1939, "L'Heure Provinciale" broadcast over 900 lectures, given by university professors, professionals and specialists of all kinds. The major areas covered were economy, social affairs, hygiene and public health, veterinary medicine, the arts, history, music and education. About 150 of these lectures were broadcast by English-language specialists, coordinated by a friend of Édouard Montpetit, professor Wilfrid Bovey, of McGill University, who had a long career in radio, but whom no one has yet studied (archival research).
Musically, "L'Heure Provinciale" was the experimental studio for all the great artists of the time, so much so that at the end of the series, in 1939, many newspapers campaigned to ask the government to continue its subsidies.
Some chroniclers, in particular Robert Rumilly, have negligently characterized "L'Heure Provinciale" as a simple pawn on the chessboard of the jurisdictional battles between Quebec and Ottawa. They have clearly not examined the archives and they have not understood that a cultural series into which the government of the day put $30,000 a year over a period of ten years (in dollars of that time), is more than a passing whim, this is a foundational move. With the perspective of time, it is easy to see that "L'Heure Provinciale" was the highly appreciated precursor of what would be the flagship series of Radio-Canada during the forties and fifties, "Radio-Collège", which, despite its name was university-level continuing education radio.
In 1929, in parallel with "l'Heure Provinciale", Dupont put another series of lectures on the menu, "L'Heure universitaire", also under the direction of Édouard Montpetit, within the framework of a mandate from the Commission des études de l'Université. The show was hosted on air by professor Jules Derome.
In the autumn of 1931, Dupont, a man of profound religious convictions, aired the series "L'Heure catholique", run by Father Papin Archambault, a Jesuit who was highly engaged in social issues. This series would last until the end of the 1930s. This was not a religious show but rather one that dealt with religious culture, the Bible, religious history and Christian art.
In parallel with this kind of deep connection to the Quebec milieu and the links with Montreal institutions, in 1929 Dupont reached a first agreement with the American newwork CBS (Columbia Broadcasting System). This was when the first agreement was reached and not in 1933 as his successor's publicist has claimed. What is fascinating is to see the content of this agreement, which has nothing to do with an Americanization of our Quebec airwaves. The agreement has to do with the broadcast of high quality music performances, concerts in essence, given by great orchestras. CKAC could thus offer its listeners the orchestras of New-York, Boston, Philadelphia, Hollywood. CKAC chose which concerts it wished to broadcast, with no obligation to take the entire package. More surprising yet is the fact that Dupont then created the CKAC orchestra and that for three years, twice a week, a dozen American cities played a concert produced in the CKAC studios.
We may remember that all these developments happened at the time when America and the West were deeply affected by the Great Depression, brought on by stock market speculation and the great crash. This was the first effect of globalization and people found themselves poor and unemployed.
In this context radio, as a medium for information, culture and entertainment, played an absolutely essential role in public and popular culture in Quebec. The lectures on public hygiene, financial prudence, home economics, food, as well as the presentations of theatre and music effectively helped to compensate for the lack of means that was affecting the population.
One of Dupont's most fruitful and most long-lasting initiatives was to make CKAC a producer of radio dramas. He signed a contract with Robert Choquette in 1931, and with him developed some initial programming of literary works written for radio. This idea was so successful that other authors were hired. For thirty years CKAC, like Radio-Canada, would broadcast original dramatic works, texts for children, fables, serialized stories, all of which constitutes an immense body of radio literature for which Renée Legris and I were able to find the manuscripts, and to deposit them with the Bibliothèque Nationale du Québec.
Up until 1932, Dupont thus pursued and extended the directions initiated by his predecessor and friend Cartier. Despite its status as a private broadcaster, he made CKAC a public service station that put the quality of its message in the forefront of its programming. When Dupont left CKAC in Decmeber of 1932, he left a cultural station in full bloom, one that resembled what the public broadcaster, Radio-Canada, was airing during the 1940s and 1950s. Dupont was replaced by a businessman, Louis-Philippe Lalonde, a lover of America, who would make the station a far more commercial effort but who would be tempered over the next twenty years, luckily, by debate with Ferdinand Biondi.
[ Return to summary ]
5) CKAC confronts a public broadcaster
In December 1932, at the request of the president of La Presse, Arthur Dupont responded to the invitation of Minister Duranleau and moved to the public broadcaster, the Canadian Radio Commission. He became French-language program director for Eastern Canada. He would stay for twelve years with the public broadcaster, which would become Radio-Canada in 1936-1937, until 1945.
The programming Dupont would develop would at first be similar to what he had been doing at CKAC, taking into account nevertheless the political constraints that came with the governmental status of the CRC. An official promotional text presented CRC programming in the following subtle manner in 1934:
Radio entertainment.
Through the national network of the Commission, Canadian performers will offer Canadian living rooms programs intended for the Canadian public.
In this socio-cultural context, it is interesting to again highlight a musical innovation that we owe to Arthur Dupont. This is an agreement that he signed with the NBC network in 1933 to broadcast the Metropolitan opera live from NewYork. Begun on December 30, 1933, the show is still being broadcast today. For Dupont, culture had no borders, but it did have roots!
[ Return to summary ]
Montreal periodical about radio (1931)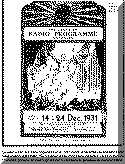 (79 K)

Conclusion
From late autumn, 1922, until the end of 1932 was a decade of cultural innovation, in which a new medium in Quebec society acquired life and meaning. Culture, social and political information and education, concretized through systematic and diversified programming, these were the priorities of this private station that saw itself as a public service. Supported by the newspaper La Presse, the radio station CKAC was the extension of what was "the largest French-language daily in America." And CKAC, as a private enterprise independent of the political arena and independent as well of the religious and academic authorities, was for the people the expression of its various institutions, its community organizations and its public culture.
--Pierre Pagé, Professor at UQAM
[ Return to summary ]
---
Home

All rights reserved




©

1997 Phonothèque québécoise / Musée du son




Last update July

6, 2001
URL http://www.phonotheque.org/radio/ckac.html