Phonothèque québécoise

A Sound Archive
Preserving, documenting and sharing our sound heritage
---
Radio in Quebec society

Key dates

by Pierre Pagé, professor at the Université du Québec à Montréal.
---
see also Galerie d'images / Image Gallery
---
---

(176 K)

General Introduction
1997 marks the 75th anniversary of radio broadcasting in Quebec and Canada. In honour of this occasion, we have prepared the following list of key dates, in order to situate the institution of radio in the general context of a society and its culture. Having checked with the primary sources, we would also like to correct a number of historical errors that have been current in most publications that have appeared over the last twenty years about the origins of radio in Quebec and Canada.
Radio as a medium for social communication, "broad-casting," [1] first appeared in Quebec and Canada in 1922 [2]. This date is supported by a series of specific references.
In 1922, the federal minister of Fisheries and Oceans initiate new regulations for communications and created a new category of licences, "private commercial broadcasting licences". He uses the term "broadcasting" for the first time and defines it clearly.
The first licences were granted in 1922. Many companies in Quebec and Canada asked for and obtained radio broadcasting station licences. During the month of April, the federal Department of Fisheries and Oceans granted some twenty licences at once, including to CFCF (Marconi, Montreal), to CKAC (La Presse), to CFCA (Toronto Star), to CHCB (Marconi, Toronto), to CJSC (The Evening Telegram), to CJCG (Winnipeg Free Press), to CJCA (Edmonton Journal) and to CJCE (Vancouver Sun).
In 1922, the two essential components for radio broadcasting came together formally: radio technology, that supplied the equipment, and journalistic expertise, that designed the programming of pre-established content. It is, then, highly significant that, for the first time, we find not only businesses manufacturing materials but also newspaper businesses that were expanding their ability to disseminate content by obtaining a radio station licence. Out of this meeting between two kinds of expertise, one old and one new, a new medium, broadcasting, was born.
Before 1922, all radio was experimental and all the licences granted by the federal government make this very clear. Businesses, universities and scientists then proceded to develop wireless telegraphy. After the 1914-1918 war, this became wireless telephony, once the ability to transmit voice had been developed.
Our chronology lists the stations that were created from the beginning and continuing until recent years. The periods in which the greatest number of stations were created are noted. We have noted the major socio-political facts up until the 1980s but a lack of historical distance prevents us from having a clear vision of more recent developments. The same holds true for recent cultural events whose long-term impact is as yet unknown.
Finally, we end this chronology with a table giving the current state of radio in Quebec for all of the stations, commercial, public, community, student and Native. We calculate a total of 182 radio stations throughout Quebec.
[ Return to summary ]
Article from the N. Y. Times (86 K)
I. The invention of wireless telegraphy in Europe (1890-1899)
1890: Professor Édouard Branly, of the Institut Catholique in Paris, invents the radio-conductor.
1890: Birth of Jacques-Narcisse Cartier, creator in 1922 of CKAC, in Sainte-Madeleine, close to Saint-Hyacinthe.
1897: The young Guglielmo Marconi, of the University of Bologna, combines several elements: Hertz's wave emitter, the spark gap, Branly's coherer, Popov's antenna, Morse's telegraph key. Marconi experiments on the sea and patents his system in London.
1898: The engineer Eugène Ducretet experiments with wireless telegraphy in an urban setting from the Eiffel Tower and builds precision instruments for many scientists (Cornu, Berthelot, Curie, Branly, Hertz, Popoff). He supplies instruments for the laboratories at Laval University.
1899: Guglielmo Marconi establishes a wireless link between England and France and acknowledges his scientific debt to Branly.
Radio equipment from the 1920s (176 K)

[ Return to summary ]


II. Wireless telegraphy and technological culture in Quebec (1899-1921)
1899: The physics lab at Laval University begins experimenting with wireless telegraphy.
1901: Guglielmo Marconi establishes a transatlantic wireless connection between England and Newfoundland, then with Nova Scotia. Trefflé Berthiaume gives this a headline in La Presse, which declares Marconi "the man of the century".
1903: Following an interview with the Prime Minister of Canada, Wilfrid Laurier, Guglielmo Marconi creates a Canadian subsidiary, the Marconi Wireless Company of Canada.
1904: Trefflé Berthiaume endows La Presse with a powerful wireless system, linking it with the great European and American papers and making it possible to carry international news daily.
1905: Canada adopts its first law on wireless telegraphy.
1905: At Laval University the physician Henri Simard, one of Branly's disciples, gives public courses in wireless telegraphy and publishes a treatise on physics that includes a chapter on wireless telegraphy for teaching in the colleges.
1906: Reginald Aubrey Fessenden, originally from Quebec, successfully transmits music and the human voice in New England.
1907: The American engineer Lee De Forest invents the tripod lamp which allows transmission of voice and the use of a microphone, thanks to its regular oscillations.
1909: The Marconi Wireless Company opens its first equipment manufacturing workshop in Montreal, on De Lorimier street.
1912: The sinking of the Titanic receives major media coverage in all the newspapers and wireless telegraphy then appears as a public service. The Titanic's distress message is received by many of Quebec's wireless enthusiasts.
1912: The physician Georges Désilets, from Nicolet, experiments with electronic music production using wireless telegraphy and subsequently registers patents in Ottawa and Washington.
1912: Beginnings of an experimental wireless telegraphy network in the Mauricie region, with Georges Désilets (Nicolet), Dr. Honorius Ricard (Grand-Mère), and Brother Germain Ouellet (Trois-Rivières).
1913-1914: By virtue of the 1905 law, the federal government awards 47 experimental wireless licences, 18 of them in Quebec. Among the recipients are a number of educational institutions, at Nicolet, Trois-Rivières, Saint-Hyacinthe, Verdun and at the École Polytechnique of Montréal.
1914-1915: During this fiscal year, the Marconi Wireless Company creates a training school for radio telegraphers and obtains an experimental licence, designated XWA.
1914: For the entire war, and up until May 1st, civilian stations are forbidden but Marconi, with its XWA station, and the military stations in Ontario and Manitoba, continue to experiment. In all, 13 experimental stations dedicated to the military are authorized. In Europe, wireless telegraphy is a strategic tool and is used by the Germans and by the Allies.
1919: In Holland, on November 6, Nederlandse Radio Industrie introduces broadcasting with a three-hour show previously announced in the newspapers.
1920: In Pittsburgh, on November 2, Westinghouse begins broadcasts from station KDKA.
1920: The Marconi Wireless company, authorized by its XWA licence, organizes testing activities in its William street test laboratory. It tests transmission by continuous wave and also tests the broadcasting of voice and music. It regularly runs tests on the ships moored at the port of Montreal, which are clients for wireless telegraphy system installation. Wireless telegraphy becomes wireless telephony.
1921: In December, a Marconi subsidiary in Montreal, the "Scientific Experimenter Limited", which operates a retail business, publishes the first advertisement for the sale of receptors.
Marconi advertisement (55 K)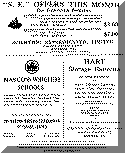 Canadian Wireless, October 1921
[ Return to summary ]
Caricature of the director of the radio sector
for the Canadian government, Mr. Edwards (124 K)

Canadian Wireless, December 1921
III. Radio: a new medium emerges in Quebec society
(1922-1936)

1922: The federal minister of Fisheries and Oceans adopts new regulations, creating the category of "Private Commercial Broadcasting Licences" and authorizes application of the principle of broadcasting to radio telephony.

1922: In April, the Minister of Fisheries and Oceans begins to grant broadcasting licences and he awards 22 of them in Canada.

On December 31st, 61 licences are granted.

For Quebec: CKAC (La Presse), CFCF (Marconi), CJBC (Dupuis Frères), CHYC (Northern Electric), CFZC, CHCX, CKCS, CFUC (Université de Montréal), CFCJ (L'Événement Journal, Québec).

For Canada: Nova Scotia: CFCE, CJCS, CHAC. New Brunswick: CJCI, CKCR. Ontario: CFPC, CHIC, CKOC, CFCH, CJCF, CFCX, CJGC, CHCS, CKQC, CHXC, CFCA (Toronto Star), CFTC, CHCB (Marconi), CHCZ, CHVC, CJCD (Eaton), CJCH, CJCN, CJSC (The Evening Telegram), CKCE, CKCZ, CKKC, CFCI, CHFC, CFBC. Manitoba: CFCD, CHCF, CJCG (Manitoba Free Press), CJNC, CKCB, CKZC. Saskatchewan: CKCK. Alberta: CFAC, CFCN, CHBC, CHCQ, CJCY, CJCA (Edmonton Journal), CHCC. British Columbia: CJCB, CFCB (Marconi), CFYC, CHCA, CHOC, CJCE (Vancouver Sun), CKCD, CFVC.

1922: The federal government grants 13 training school licences, 7 of them to Quebec institutions: Verdun's Collège Scientifique et commercial (Académie Richard), Académie Girouard (St-Hyacinthe), Mont-Saint-Bernard college (Sorel), Académie du Sacré-Coeur (Sorel), McGill University (2 licences) and the École du Sacré-Coeur (Shawinnigan).

It also grants 40 experimental licences, 6 of them in Quebec [Robb (9AA), Désilets (9AB), Marconi (9AM, 9BC), Telmosse (9AN), Northern Electric (9BM)]

1922: On May 3, La Presse announces construction of its station CKAC, to be inaugurated on September 27 with a concert by internationally-renowned pianist Emiliano Renaud.

1922: Jacques-Narcisse Cartier, journalist and expert radio technician, becomes CKAC's first director, after having participated in the creation of two New York stations together with David Sarnoff, then vice president of RCA.

1922: Many organizations created between 1920 and 1923, provide a scientific and cultural context for the advent of radio: In 1920, the Université de Montréal, having become autonomous, creates the École des sciences sociales, économiques et politiques, under the direction of Édouard Montpetit. Created in 1922 are: the Institut de Botanique de Montréal by Marie-Victorin, the Société canadienne d'opérette, the Montreal Philharmonic Orchestra (originally called the orchestra of the "Conservatoire national de musique", affiliated with the Université de Montréal) conducted by Eugène Chartier, the grand prix littéraire du Québec (later the Prix David). Adoption of the law on historic monuments. In 1923: founding of ACFAS, the Association canadienne-française pour l'avancement des sciences, construction of the École des Beaux-Arts de Montréal and founding of the Société du Bon Parler français by Jules Masse.

1922: Inauguration of the BBC in England, Radio-Paris and Radio-Tour-Eiffel in France, as well as radio stations in Switzerland, Spain, the USSR, Denmark and Germany.

1923: On February 13, start of the first series of shows devoted to contemporary French song, organized by musicologist and music importer Raoul Vennat.

1923: On April 5, introduction of the first play broadcast over Quebec radio and across Canada: Félix Poutré, by Louis Fréchette, a play about the rebellions of 1837.

1923: On April 13, Jacques-Narcisse Cartier, accompanied by the musicians and the singers who gave French music concerts goes to introduce the inaugural concert of the new radio station in Springfield, Massachusetts.

1923: On June 12, first live broadcast of an operetta, Les Cloches de Corneville, with an orchestra of 25 musicians, a choir of 38 singers and professional soloists.

1925: In March, Jacques-Narcisse Cartier presents a memo to a House of Commons committee in Ottawa, entitled "Le rôle véritable de la radio dans la vie d'un peuple" (the true role of radio in the life of a people.)

1925: On September 15, the first pedagogical radio program: a 30-week piano course given by internationally-known Quebec pianist Emiliano Renaud.

Emiliano Renaud, pianist (166 K)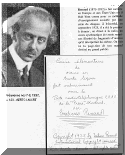 1925: In October, during the federal election campaign, first broadcast of rallies by a "mobile unit" created by Cartier and live broadcast of the results over CKAC to all of Eastern Canada.
1926: Founding of the Canadian Association of Broadcasters in Toronto. Jacques-Narcisse Cartier is elected President on January 24.
1926: Creation of NBC in New York by David Sarnoff. Twenty-four stations are part of the network.
1926: In Quebec City, founding of station CHRC by J.-Narcisse Thivierge, of the Soleil newspaper, and of CKCV, under G.-A. Vandry.
CHRC Advertisement (25 K)

Canadian Broadcaster & Telescreen, January 10, 1951
1927: In October, Jacques-Narcisse Cartier leaves CKAC for health reasons. He returns subsequently to print journalism.
1927: Joseph-Arthur Dupont, Cartier associate, succeeds him at the helm of CKAC.
1928: The federal government sets up a Royal Commission to look into broadcasting (the Aird /Frigon Commission) which presents its report in 1929.
1929: In April, Premier Taschereau's government in Quebec adopts a law on broadcasting, the "Loi relative à la radiodiffusion en cette province".
1929: In October, CKAC's new transmitter in Saint-Hyacinthe boosts the station from 500 to 5000 watts. Almost immediately, Dupont applies to the federal government to increase the power to 50,000 watts.
1929: On October 24, the New York Stock Market crashes, initiating a long economic depression throughout the West.
1929: In December, the start of a cultural and educational series of broadcasts called "L'Heure Provinciale", financed by the Quebec government by virtue of the law that it had just adopted. The series is directed by the economist Édouard Montpetit with Henri Letondal as artistic director. It will last ten years and broadcast some one thousand economic and social lectures.
1929: J.-Arthur Dupont arrives at an understanding with the Columbia Broadcasting System (CBS) involving the exchange of classical music concerts with the American network.
1929: Opening of CKSH Saint-Hyacinthe, owned by the municipality and the Chamber of Commerce.
1930: The visit of the British dirigible, the "R-100", to Montreal, creates an exceptional media event. For the return voyage a single French-Canadian journalist is on board, Jacques-Narcisse Cartier.
1931: J.-Arthur Dupont hires the writer Robert Choquette, marking the debut of Quebec literature on the radio.
1931: In December, New York's Metropolitan Opera inaugurates its Saturday afternoon live broadcasts.
1932: May 26, adoption of the Canadian Broadcasting Act, creating the Canadian Radio Broadcasting Commission (CRBC) which starts up in the fall.
1932: The Canadian Radio Broadcasting Commission, composed of three members (H. Charlesworth, T. Maher and A. Steele) hires J.-Arthur Dupont in December as director of French-language programming for Eastern Canada.
1932: The producer Marcel Lefebvre leaves CKAC and becomes founding director of CHLP which begins broadcasting in 1933.
1933: Louis-Philippe Lalonde, an annoucer at CKAC since 1929, becomes manager of the station, which he orients towards commercial goals.
1933: On June 30 in Hull, station CKCH opens and in the same year becomes the property of Josaphat Pharand.
1933: In Chicoutimi, inauguration of the station CRCS of the Canadian Radio Broadcasting Commission.
1933: In December, Arthur Dupont reaches an agreement allowing the CRBC to rebroadcast the Saturday afternoon opera live from the Metropolitan Opera House in New York. These broadcasts are still being aired in 1997.
1933: CHNC begins broadcasting in New-Carlisle in July.
1934: Jacques-Narcisse Cartier becomes vice present of the CRBC, replacing Thomas Maher. He will leave in 1935 for political reasons.
1935: Robert Choquette creates the first long-running radio drama, "Le Curé de village".
1936: On November 2, the CRBC becomes a Crown corporation, the Canadian Broadcasting Corporation (CBC) / Société Radio-Canada. The Assistant General Manager is Augustin Frigon (1936-1943), who is subsequently to become General Manager (1944-1951).
[ Return to summary ]
Groupe Trans-Québec (34 K)



IV. Radio, a made-to-measure essential service
1937: New stations: CHLN in Trois-Rivières, CJBR in Rimouski, CHLT in Sherbrooke.
1937: Inter-American conference on wave lengths in Havanna, Cuba. The agreement adopted there comes into force in 1941.
1937: On December 11, inauguration of CBF; start of new programming specific to Radio-Canada. Start of the first series for women: "Femina".
1937: Gratien Gélinas creates the character "Fridolin" on CKAC as part of the show "Le Carroussel de la gaieté"
1937-1938: Start of the radio drama as literary phenomenon. Daily instalments of stories and original dramatic series by Quebec authors (Choquette, Grignon, Baudry, Légaré, Gury, Bernier, Loranger, Brisset-Thibodeau, Morisset, Deyglun, Desprez, Brassard.)
1938: Jean-Marie Beaudet becomes director general of music for the entire Radio-Canada network.
1938: The French language network at Radio-Canada is joined in September by CBV Quebec and in October by CBJ Chicoutimi.
1938: In September, Claude-Henri Grignon begins broadcasting his first radio drama, "Le Déserteur", on CBF in the series "Les Belles Histoires des pays d'En-Haut", produced by Guy Mauffette.

Claude-Henri Grignon (156 K)
1938: On October 30, Orson Welles produces The War of the Worlds on CBS, and creates panic in the American public.
1938: With the support of the Quebec government, the series "Le Réveil rural" makes its debut on Radio-Canada. This is a show about rural economics first produced by a group of agronomists led by J.-Arthur Dupont and founded in Quebec in 1935 under the name "Société du Réveil rural". The series would last over thirty-five years.
1939: The specialized weekly publication Radio-Monde makes its debut on January 1st.
1939: Station openings: CKRN in Rouyn-Noranda, CHGB in Ste-Anne-de-la-Pocatière, CKVD in Val d'Or.
1939: Start of regular radio broadcasts of hockey games from the Montreal Forum.
1939: In March, Germany invades Czechoslovakia. On September 1st, Germany declares a European war and takes Poland. On September 3, England and France declare war on Germany. On September 10, Canada declares war on Germany.
1939: In May, Jovette Bernier starts his comedy series "Quelles Nouvelles" ("What News") just when news becomes omnipresent.
1939: On September 5, Claude-Henri Grignon starts broadcasting his radio drama "Un homme et son péché" on CBF, followed by "Une autre des Belles Histoires des pays d'En Haut", produced by Guy Mauffette and then by Lucien Thériault.

Claude-Henri Grignon and Guy Mauffette (177 K)

"Un homme et son péché" (187 K)

1939: Creation of the important dramatic series "Le théâtre de chez-nous" at CKAC, directed by Henri Letondal.
1940: On June 18, General Charles De Gaulle sends out a call to the French over the BBC in London, to organize resistance to the German invader.

Advertisement for CJAD (19 K)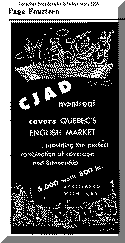 Canadian Broadcaster & Telescreen, 1950


1940: The 12 following stations open during the 1940s:
CHAD (Amos, 1941), CJSO (Sorel, 1945), CJAD (Montréal, 1945), CKVL (Verdun, 1946), CKTS (Sherbrooke, 1946), CHEF (Granby, 1946), CKRS (Jonquière, 1947), CJFP (Rivière-du-loup, 1947), CKBL (Matane, 1948), CHRC (Québec, 1949, this would become CHOI-FM in 1976), CHRL (Roberval, 1949), CJNT (Québec, 1949, becomes CJQC in 1953 and CFOM in 1964.)


Corporate advertisement (40 K)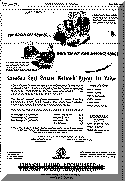 Canadian Broadcaster & Telescreen, February 21, 1951

1941: Radio-Canada creates its news service, under the direction of Marcel Ouimet
1941 Radio-Collège is created at Radio-Canada, with producer Aurèle Séguin (1941-1950), then Gérard Lamarche (1950-1953) and then Raymond David (1953-1956).
1941: The federal government imposes censorship on all the media under the provisions of the War Measures Act. A team of soldiers and journalists is given the responsibility of approving the news.
1942: Ottawa launches a referendum campaign in order to authorize conscription and Radio-Canada puts limits on the right to speak for those opposed to the government.
1944: Augustin Frigon becomes General Manager of Radio-Canada and holds this post until 1951.
1945: Quebec's legislative assembly adopts a law authorizing the creation of a provincial radio authority, giving rise to the "Office de la radio du Québec."
1946: Ferdinand Biondi becomes program manager at CKAC and, until 1965, promotes cultural values to station manager Phil Lalonde.
1947: At CKVL, Guy Mauffette, in collaboration with Jacques Normand, creates a model with "La Parade de la chansonnette française". After the war, this show would inspire a re-introduction of songs from France, spearheaded by the master of the genre, Charles Trenet.
Colgate - Palmolive sponsorship (133 K)

Canadian Broadcaster & Telescreen, February 21, 1951


1948: The first doctoral thesis about radio in Quebec is defended at the Université de Paris-Sorbonne by Jacques Beauchamp-Forget.
1948: The Institut de la Radio is founded at Laval University, attached to the Service extérieur de la Faculté des Sciences sociales, headed by Napoléon Leblanc and Aurèle Séguin.
1949: The federal government creates the Royal Commission on National Development in the Arts, Letters and Sciences, under the chairmanship of Vincent Massey with Georges-Henri Lévesque as co-chair.
1950:

The following 16 stations

open during the 1950s

[

3

]:


CKVM (Ville-Marie, 1950), CKLD (Thetford-Mines, 1950), CKLS (La Sarre 1950), CKSM (Shawinigan, 1951), CFDA (Victoriaville, 1951), CKVL-FM, (Verdun, 1951, will become CKOI-FM in 1977), CKRB (St-Georges-de-Beauce, 1953), CJMT (Chicoutimi, 1954), CFGT (Alma, 1954), CKBM (Montmagny, 1954), CHRD (Drummondville, 1954), CKTR (Trois-Rivières, 1954), CJMS, (Montréal, 1954, by Raoul Gadbois, of La Bonne Chanson), CKGM (Westmount, 1959), CHRS (Longueuil, 1959), CFLM (La Tuque, 1959).
CKVL Advertisement (53 K)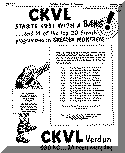 Canadian Broadcaster & Telescreen, February 21, 1951


1950: Beginning of the Radio-Canada series "Nouveautés dramatiques", experimental Quebec theatre created by Guy Beaulne and broadcast until 1962.
1951: Beginning of the Radio-Canada series "Sur toutes les scènes du monde", theatre playing an international repertoire, that would continue broadcasting until 1975.
Reporter (88 K)

Canadian Broadcaster & Telescreen, February 21, 1951


1955: The federal government creates the Royal Commission on Broadcasting, headed by R.M. Fowler. The report is submitted March 15, 1957.
1956: At Radio-Canada, producer Paul Legendre together with a team of writers creates "Chez Miville", a broadcast of humorous texts about current events. This show would continue to take a satirical look at the daily realities of the "Quiet Revolution" until 1970.
1958: The federal government adopts a law creating the Board of Broadcast Governors (BBG).
1959: First popular use of transistor radios
1959: Start of the "open line" shows at CKVL, with "Madame X", Reine Chevrier.
1959: Death of Prime Minister Maurice Duplessis in September
1960: January 2, death of Prime Minister Paul Sauvé, who opened Quebec to change in a speech that became famous for its repetition of the word "désormais" ("from now on").
1960: In June, election of Prime Minister Jean Lesage and his team, who would institute economic, social and cultural reforms that would together be known as the "Quiet Revolution".
1960: Guy Mauffette, at Radio-Canada, begins hosting his legendary Sunday night show, "Le Cabaret du soir qui penche".
Guy Mauffette (175 K)
1960: During the 1960s, 27 stations opened, including [4]:
CJAF (Cabano, 1960), CJLM (Joliette, 1960), CKBS (Saint-Hyacinthe, 1960), CHLC (Hauterive, 1962), CKLM (Laval, 1962), CJFM-MF (Montreal, 1962), CFMB (Montreal, angl., 1962), CKGM-MF (Montreal, angl., 1963), CKML (Mont-Laurier, 1964), CKMF (Montreal, 1964), CFQR (Montreal, 1966), CFLS (Lévis, 1967), CHVD (Dolbeau, 1967), CHLT-FM (Sherbrooke, 1967, qui devient CITE-FM en 1976), CJRP (Québec, 1969), CJMD (Chibougamau, 1969),
1961: Creation of the provincial ministry of cultural affairs (Ministère des Affaires culturelles du Québec).
1962: Start of radio courses in spoken French, music, and English, offered by the Département de l'Instruction publique du Québec.
1964: Creation of the ministry of education, (Ministère de l'Éducation du Québec).
1965: Gilles Vigneault sings "Mon Pays" for the first time.
1966: Founding of the contemporary music association, the Société de musique contemporaine du Québec.
1967: World's Fair in Montreal called "Man and His World", numerous heads of state visit the city, the number of live broadcasts increases exponentially.
1968: The federal government adopts a law creating the Canadian Radio and Television Council (CRTC).
1969: The Quebec government creates its communications ministry, the Ministère des Communications.
1969: The 1945 law is modified and the Office de la radio-télévision du Québec is created, with a mandate to broadcast educational programming.
1969: The Radiomutuel network is created by Raymond Crépeault (Corporation Civitas Radiomutuel).
1970: During the 1970s, 41 stations open, including[5]:
CFGL-FM (Laval, 1970), CFED (Chapais, 1970), CFDM (Drummondville, 1970, qui devient CKVR en 1976), CIMF-FM (Hull, 1970), CKVT-FM (Témiscamingue, 1970), CHOM-FM (Montréal, angl. 1972), CKTL (Plessisville, 1972), CKRL (Sainte-Foy, 1973), CJAN (Asbestos, 1973), CKPM (Bagotville, 1975, CJLA (Lachute, 1975), CKLR (L'Annonciation, 1975), CJVL (Ste-Marie-de-Beauce, 1975), CJMC (Ste-Anne-des-Monts, 1975), CHRM (Matane, 1975), CKMG (Maniwaki, 1975), CHOI-FM (Québec, 1976), CIPC (Port-Cartier, 1976), CITÉ-FM (Montréal, 1977), CIEL-FM (Longueuil, 1977), CIRB (Lac Etchenmin, 1977), CIME-FM (Laval, 1977), CHOC-FM (Jonquière, 1977), CHUT-FM (Chicoutimi, 1977), CFRP (Forestville, 1977), CJRG-FM (Gaspé, 1978), CJLP (Disraéli, 1978), CFLP (Rimouski, 1978), CIRC-FM (Rouyn-Noranda, 1978), CHLM-FM (Rouyn-Noranda, 1979), CJAB-FM (Chicoutimi, 1979),
1970: Election of Premier Robert Bourassa.
1970: During the October Crisis, radio, and in particular transistor radio, once again became a critical tool for getting news instantly.
The 1970 October Crisis and radio (127 K)

Québec Presse, February 25, 1973

1971: Marconi sells its rights to the radio station CFCF.
1971: The government articulates a statement of its intention to create a Quebec communications policy, "Pour une politique québécoise des communications".
1971: The government publishes a statement on cable policy for Quebec, "La politique québécoise en matière de câble communautaire".
1973: The Quebec legislative assembly inaugurates a special Parliamentary Commission on problems of freedom of the press, that would publish a series of reports on the media.
1973: The Télémédia network is formed
1973: Quebec and Canada's first community station is CKRL-FM, at Laval University in Quebec City.
1974: The first inter-cultural community radio station is created, CINQ-FM, in Montreal.
1974: Radio-Canada French-language FM stereo station opens, linking Montreal, Ottawa, Quebec and Chicoutimi.
1975: The name and mandate of the CRTC are modified as it becomes the Canadian Radio-television and Telecommunications Commission.
1976: In May, the Quebec government publishes a working paper on cultural policy prepared by the Minister, Jean-Paul L'Allier, entitled "Pour l'évolution de la politique culturelle".
"Les Joyeux troubadours" is recorded (175 K)


1976: November 15, Premier René Lévesque and his government are elected.
1977: The Quebec government publishes a policy statement on radio-television entitled "Le Québec et la radio-télévision: éléments d'une politique".
1978: The Quebec government, under the authority of minister Camille Laurin, publishes a cultural development policy entitled "La Politique québécoise du développement culturel".
1979: At the end of the decade, the "open lines" account for 17% of broadcast hours overall, but CFCF gives them 47%, CKVL 22% and the others between 8% and 12%.
CFCF and the CRTC (173 K)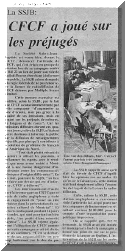 Le Jour, April 1st, 1976

1979: Founding of the Association des radiodiffuseurs communautaires du Québec (ARCQ).
1980: Between 1980 and 1996, 36 stations open [6]:
CFVM (Amqui, 1980), CHAI-FM (Châteauguay, 1980), CFJO (Gagnon, 1980), CHGA-FM (Maniwaki, 1980), CJMF-FM (Quebec, 1980), CIMH-FM (Sept-Iles, 1980), CIGB-FM (Trois-Rivières, 1980), CIBO (Senneterre, 1981), CFIM-FM (Cap-aux-meules, 1981), CHIP-FM (Fort-Coulonge, 1981), CIHO-FM (St-Hilarion, 1981), CIBL-FM (Montreal, 1982), CBSI-FM (Sept-Iles, 1982), CITF-FM (Quebec, 1982), CHIK-FM (Quebec, 1982), CIEU-FM (Carleton, 1983), CKMF-FM (Montreal, 1984), CFNJ-FM (St-Gabriel-de-Brandon, 1985), CIMB-FM (Rivière-du-Loup, 1986), CFIX-FM (Chicoutimi, 1987), CFEL-FM (Montmagny, 1987), CHJM-FM (St-Georges-de-Beauce, 1987), CJDM-FM (Drummondville, 1987), CJMM-FM (Rouyn-Noranda, 1988), CIKI-FM (Rimouski, 1988), CKTF-FM (Gatineau, 1988), CFLO-FM (Mont-Laurier, 1988), CFEI-FM (St-Hyacinthe, 1988), CJMV-FM (Val-D'Or, 1989), CFJO-FM (Victoriaville, 1989), CHEY-FM (Trois-Rivières, 1990), CHOE-FM (Matane, 1991), CIQC (Verdun, 1991 [7]), CHOX-FM (La Pocatière, 1992), CHYK-FM (Alma, 1993), CKGM (Montreal, 1996).
1983: The federal government publishes a policy statement: "Towards a New National Broadcasting Policy"
1983: In Montreal, founding of the Association mondiale des radiodiffuseurs communautaires (AMARC).
1985: The federal government creates its Task Force on Broadcasting Policy that would submit its report in September of 1986 (Sauvageau-Caplan Report).
[ Return to summary ]
Radio broadcasting in Quebec in 1997
75 years after the beginnings of radio in this city, Montreal counts about 182 stations [8]:
27 FM community radio stations [9],
81 commercial [11] stations [10]
13 Radio-Canada government stations [12]
1 Radio-Canada International station[13]
10 FM student radio stations [14]
50 Native stations [15].
--Pierre Pagé, Professor at UQAM
[ Return to summary ]
---
| | | |
| --- | --- | --- |
| The Phonothèque | Inventories and Databases | Projects |
| | | |
---
Home

All rights reserved
1997 Phonothèque québécoise / Musée du son
Last update June 7, 2004
URL http://www.phonotheque.org/.../reperes-eng.html