* Radio Canada International produces a first album designed to promote Canadian music abroad (works by Claude Champagne and Healey Willan); many other records are produced and transferred to 16-inch records starting in 1947 (works by Jean Coulthard, Clermont Pépin, Maurice Blackburn, Pierre Mercure, Jean Papineau-Couture); a number of famous Canadian musicians record for Radio Canada International, including Glenn Gould, Pierrette Alarie, Léopold Simoneau and Maureen Forrester.
* Radio Canada International is the first record label to produce Canadian music. Between 1947 and 1955, it creates a historical series consisting of some 100 records, many of them designed to broadcast works from here on in Europe.
* Radio competitions proliferate, as do contests in cabarets and various other settings.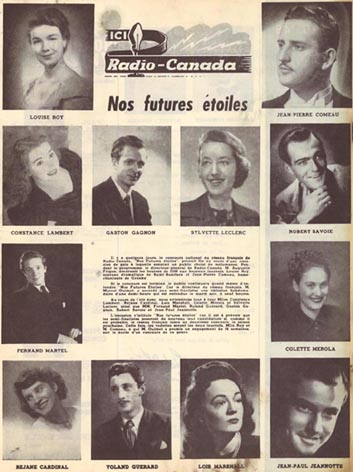 * Popular singers begin adding the work of Quebec songwriters to their repertoires.
* In 1949, Robert L'Herbier and Fernand Robidoux launch the magazine Radio 49, in competition with the Radiomonde review of the arts and entertainment; shortly thereafter Herbier and Robidoux organize a "Grand prix de la chanson" (Grand prize for song) (Roland Damour would win the first prize).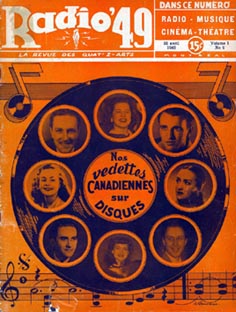 * Jeunesse musicales du Canada is founded in 1949.
* Fernand Robidoux records a Quebec repertoire (including one song by Raymond Lévesque) in Decca's studio in London, England, where Jacques Labrecque is working. He breaks off an ageement with RCA Victor, who refuse to record Quebec songs and insist on adaptations of French or American hits.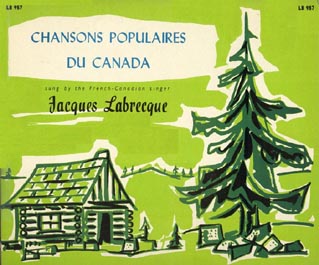 * Advent in the United States of the 33 rpm long-play record in 1948, following by the 45 rpm in 1949.
* Private radio stations (CKAC, CKVL) also broadcast variety shows in which songs from Quebec slowly find a place (Quebec singers begin with adaptations of foreign hits, and later turn to local material). According to Fernand Robidoux, in the late 1950s, Quebec radio stations are playing mostly American records, massivly distributed for promotional reasons; Canadian and European companies do not have big budgets, and are already suffering from how to compete with American "dumping".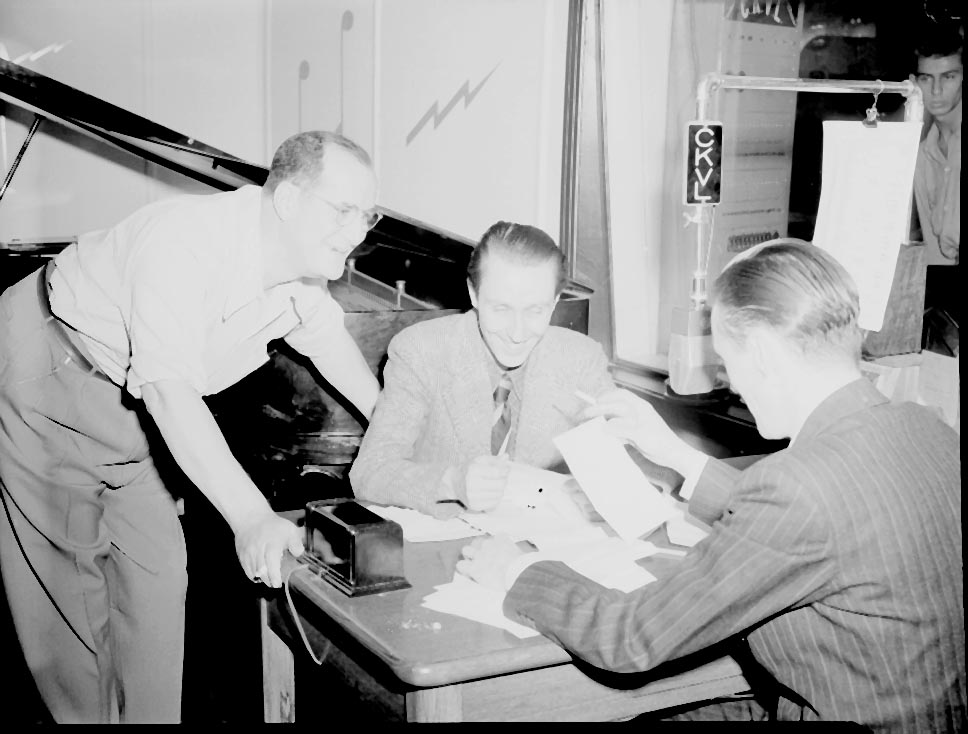 CKVL
* Polydor adds Félix Leclerc to its international catalogue.
* In 1950, lthe American share of world record sales reaches 80%.
* The French "chansonniers" make their appearance starting in the 1950s (at the Faisan doré cabaret); music from France is heard on the radio and in a number of cabarets post-war, including the Copacabana, and the Café de l'Est (with singers like Trenet, Piaf, Chevalier, Rossi…).
* In the early 1950s, musicologist Maryvonne Kendergi hosts a Radio-Canada show where she invites composers to be her guests (Jean Papineau-Couture is the first on her list).
* The first concerts of contemporary music by Quebec composers are given in Montreal in 1954 (Serge Garant, François Morel, Gilles Tremblay).
* Before 1955, most Canadian classical musicians recorded for the foreign multinationals (Columbia, Capitol, Decca, EMI, London, RCA); after 1955, a few Canadian labels offered local classical performers a forum for their art (Acadia, BAR, Baroque, CAB – CAPAC, CRI, Dominion, JMC, LAB, Madrigal, Radio Canada International, Select).
* Radio-Canada organized the Canadian song contest in 1956, giving rise to sustained promotion of Quebec song.
* In 1957, Quebec is invaded by the phenomenon of popular music in English (crooners, rock'n roll); the Quebec companies Franco-Disques and Trans-Canada produce adaptations of American hits.
* Musicologist Maryvonne Kendergi receives Karlheinz Stockhausen in Radio-Canada's Montreal studios in 1958.
* The Centre de musique canadienne is founded in 1959. It will develop, among other activities, the recording and distribution of contemporary music.
* Archambault, Montreal record dealer since the begnning of the century, distributes records produced abroad (songs, variety, light opera, records for youth, religious music) and, starting in 1959, produces records featuring local artists (the Sélect production and distribution company).
* French companies Pathé-Marconi, Barclay and Polydor, record many local artists; British companies London and Capitol do the same.
* Between 1950 and 1960, 18 new labels fight it out on the Quebec market.
* Starting in 1960, 78 rpm records are no longer in competition.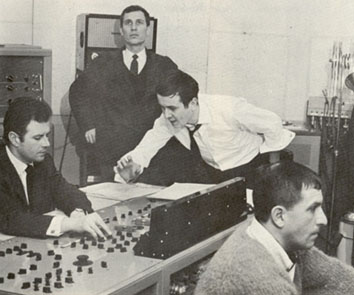 Jean-Pierre Ferland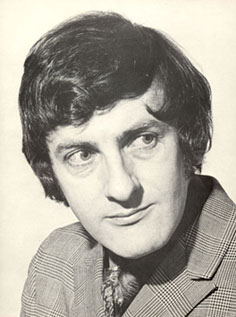 Jacques Blanchet
1945-1960
Light opera:
Rita Bibeau

René Caron

Yoland Guérard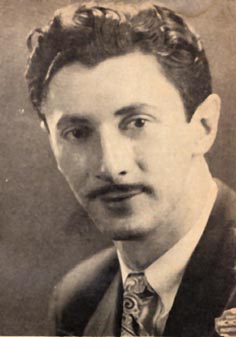 Yoland Guérard

Classical music:
Pierrette Alarie

Léopold Simoneau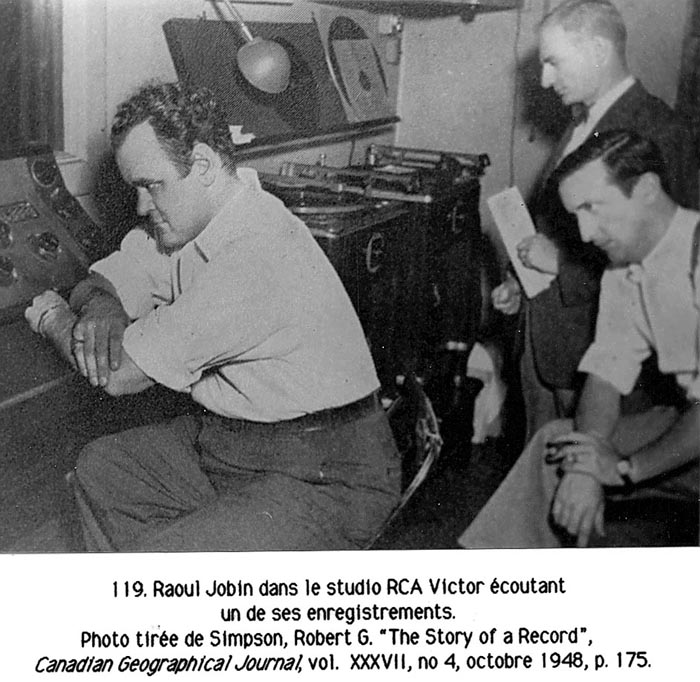 Popular song: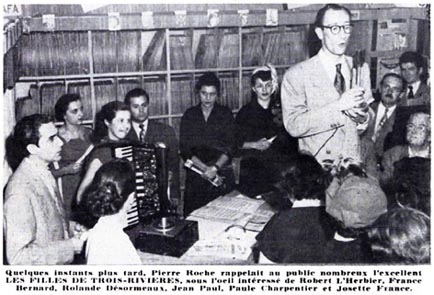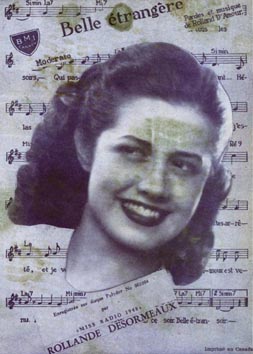 Rolande Désormeaux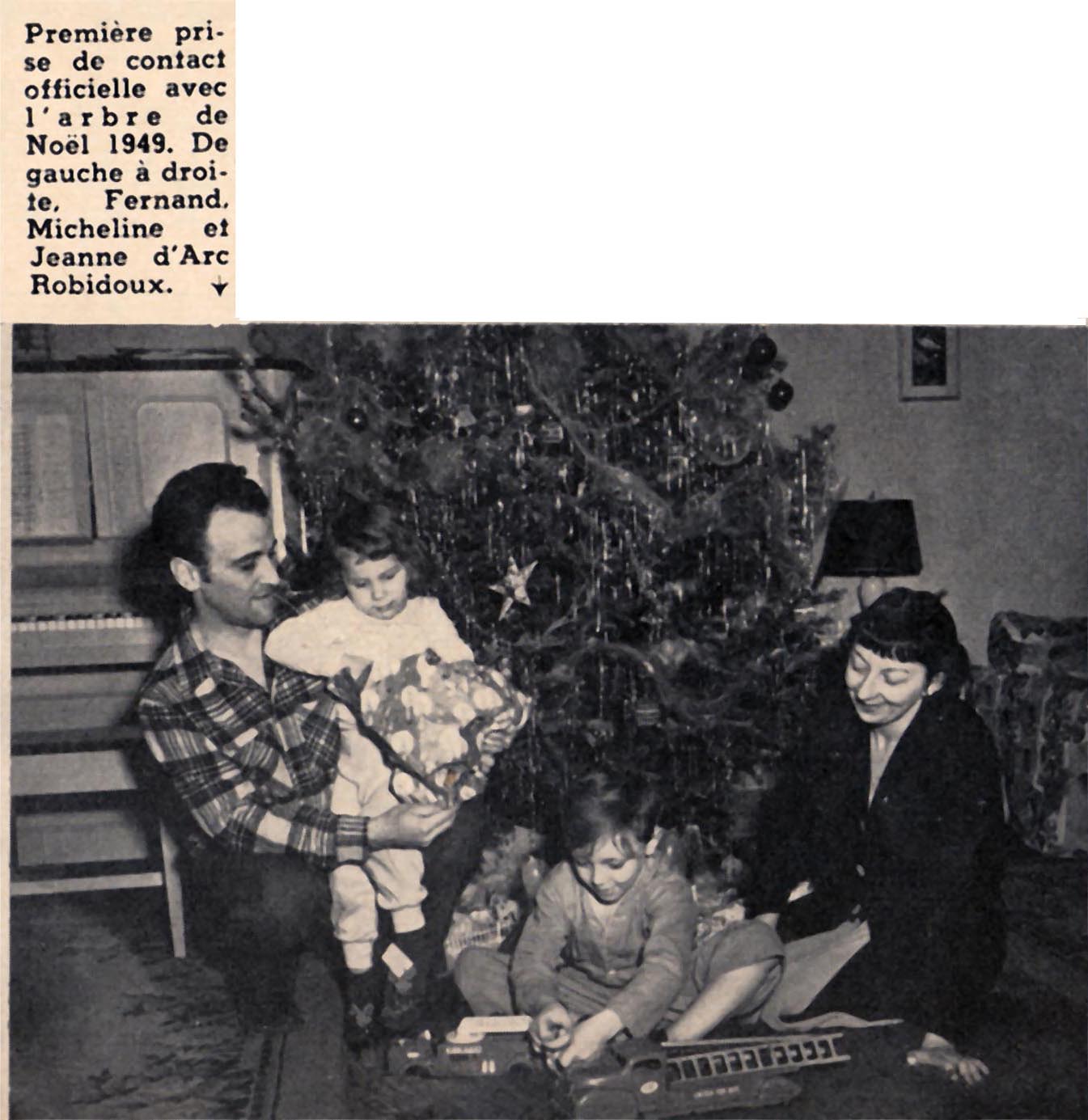 Jacques Normand

Alys Robi

Élaine Bédard

Lucille Dumont

Aglaé

Michel Noël

Dominique Michel

Traditional music: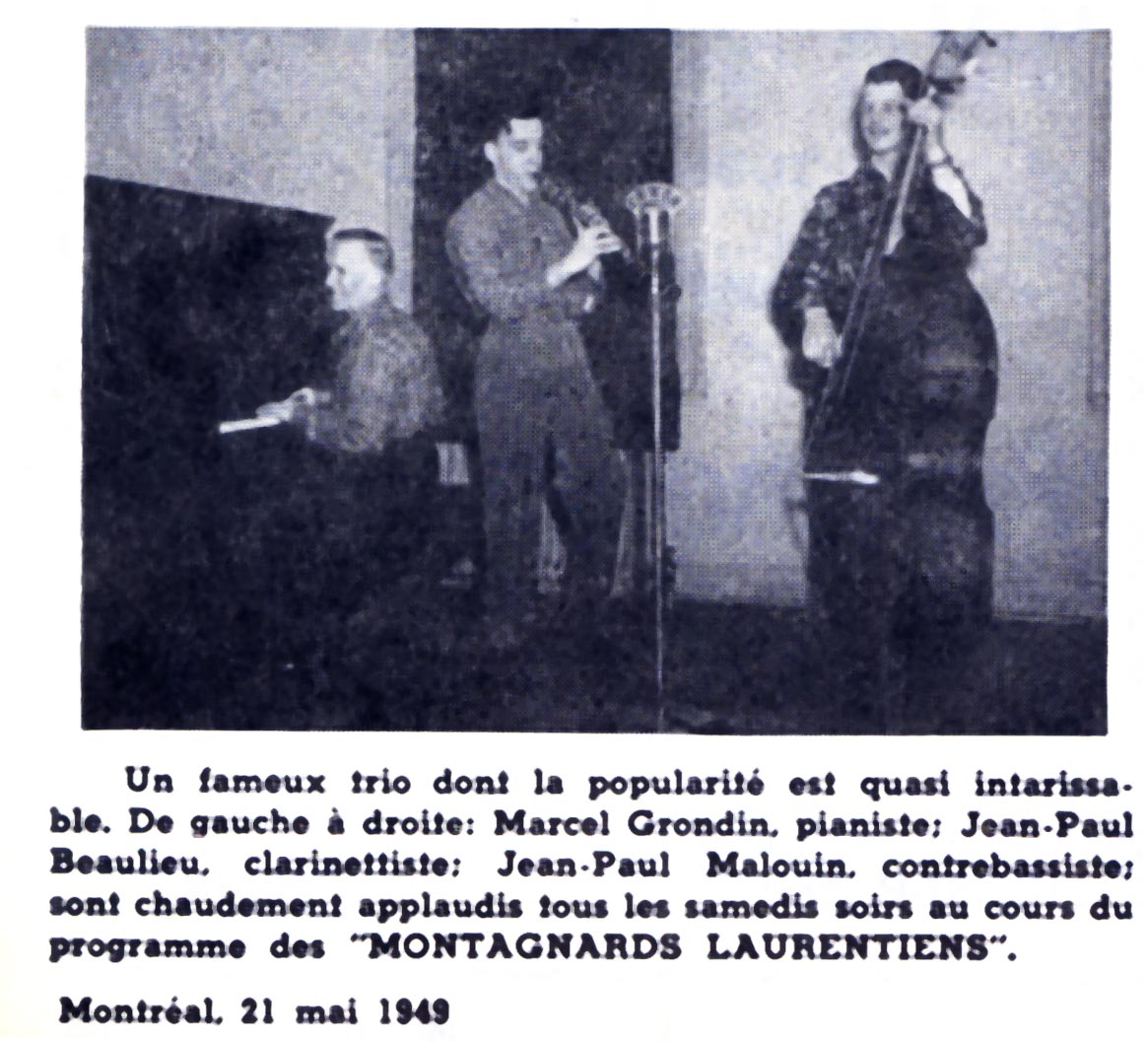 Les Montagnards laurentiens

Country :
Paul Brunelle

Marcel Martel

Willie Lamothe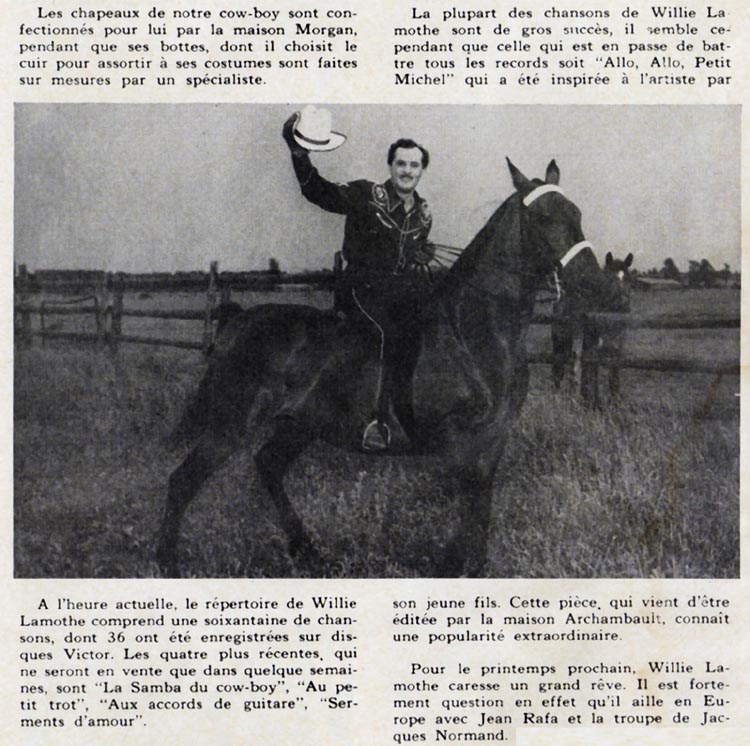 Singer-songwriters:
Félix Leclerc

Raymond Lévesque

Léo Lesieur

Les Bozos

Clémence Desrochers

Gilles Vigneault

Jean-Pierre Ferland

Claude Léveillé

Marc Gélinas

Jacques Blanchet

Pierre Calvé

Georges Dor
Adaptations of American hit songs:

Jazz:
*Note: the materials cited below are available in French only.
The following interviews relating to the sound history of this period may be consulted at the Phonothèque:
Excerpts of interviews relating to this period of the history of records in Quebec:


Classical music:

Premiers enregistrements numériques de l'Orchestre symphonique de Montréal– Tremblay, Bernard, (33'' / 214K), enregistré en 1993

Popular song:
Conditions du succès– Leblanc, Marcel, (14''/ 96K), enregistré en 1993
Début d'une carrière de directeur artistique– Leblanc, Marcel, (41'' / 258K), enregistré en 1993
La production de disques à Montréal dans les années 1950 et 1960 – Leblanc, Marcel, (42'' / 269K), enregistré en 1993
Promotion des disques à la radio et collaboration entre le producteur et l'artiste– Leblanc, Marcel, (59'' / 367K), enregistré en 1993
Rôle du directeur artistique– Leblanc, Marcel, (34'' / 216K), enregistré en 1993

Enregistrement d'un concert de Fernand Gignac et difficultés techniques de l'époque– Tremblay, Bernard, (1'00'' / 252K), enregistré en 1993
Adaptations of American hits:

Les pionniers du rock au Québec - Baillargeon, Richard, (2' 20" / 863K) enregistré dans un café le 23/02/2002
Pourcentage des disques étrangers vendus au Québec et phénomène des adaptations des succès américains– Tremblay, Bernard, (48'' / 299K), enregistré en 1993
Traditional music

:
Disque de Jean Carignan - Bernard, Yves, (33" / 205K) enregistré le 23/03/2002
New Music and contemporary music:


Music industry (production and recording techniques):


Enregistrement en monophonie et apparition de la stéréophonie au Canada
– Descombes, Michel
, (50'' / 312K), enregistré en 1993


Évolution des techniques de «Mastering»
– Descombes, Michel
, ('' / 514K), enregistré en 1993
Anecdote autour du travail de «Mastering»– Descombes, Michel, (50'' / 312K), enregistré en 1993
Contrainte du disque lors du «Mastering»
– Descombes, Michel
, (1'19'' / 487K), enregistré en 1993
Compétition entre les maisons de disques dans les années 1950 et 1960
– Leblanc, Marcel
, (1'18'' / 485K), enregistré en 1993


Maisons de production de disques à Montréal dans les années 1950 et 1960 (Compo et RCA)
– Leblanc, Marcel
, (41'' / 258K), enregistré en 1993


Promotion à la radio dans les années 1950
– Ménard, Claude, (47'' / 295K), enregistré le 31/03/2003
Qualité des enregistrements des années 1950 et avènement de la technique Dolby
– Tremblay, Bernard
, (1'06'' / 408K), enregistré en 1993
Studios à Montréal et service de post-production chez RCA Victor
– Tremblay, Bernard
, (32'' / 205K), enregistré en 1993


Comparaison des équipements de réverbération entre les studios Stereo Sound et RCA
– Tremblay, Bernard
, (41'' / 258K), enregistré en 1993
Expérience du disque 16 tours et adaptation des studios aux nouvelles technologies
– Tremblay, Bernard
, (43'' / 271K), enregistré en 1993


Évolution des appareils d'enregistrement depuis 1949
– Tremblay, Bernard
, (1'13'' / 457K), enregistré en 1993


Développement d'un système à 3 pistes
– Tremblay, Bernard
, (50'' / 314K), enregistré en 1993


Les studios concurrents de RCA
– Tremblay, Bernard
, (30'' / 192K), enregistré en 1993

Naissance des maisons de disques indépendantes
– Tremblay, Bernard
, (39'' / 245K), enregistré en 1993