* The "yé-yé" movement (creating French adaptations of 60s rock and pop music) and the wave of 1960s singers evolve in parallel.
* The shrine of yé-yé is the television show Jeunesse d'aujourd'hui, which begins its reign in 1962.
* Quebec companies consolidate (Sélect, Jupiter, Franco and Trans-Canada, Kébec-Spec, Gamma).
* As the level of professionalism in the industry rises, Quebec companies begin seeking a significant share of the market at the expense of the multinationals.
* The golden age of song in Quebec emerges in tandem with the sovereignist movement.
* The Société de musique contemporaine du Québec is founded in 1966
* In 1966 – 1967, to commemorate the Canadian centennial, Radio-Canada International produces an anthology of classical and contemporary Canadian music called Music and Musicians of Canada, a 17-record collection featuring works by R. Murray Schafer, Jean Vallerand, Alexis Contant, François Morel and Serge Garant ; RCA Victor collaborates with Radio Canada International to produce the 9-record set called Canadian Folk Songs: A Centennial Collection; The Montreal Symphony Orchestra records an album of contemporary music with works by Matton, Mercure, Somers and Prévost.
* Many Canadian musicians record abroad for multinational record companies (Glenn Gould, Pierrette Alarie, Léopold Simoneau, Raoul Jobin, Louis Quilico, Joseph Rouleau, André Turp, Wilfrid Pelletier).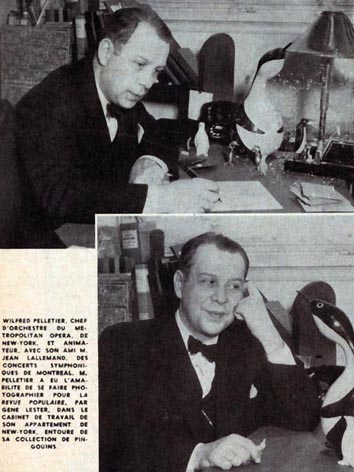 Wilfrid Pelletier
* 14.5 million records and cassettes are sold in Quebec in 1973 (2.4 per capita).
* New Quebec labels produce classical and contemporary music, the acknowledged leader in the field being Gilles Poirier and his company SNE (Société Nouvelle d'Enregistrement); classical music catalogues were also developed by Richelieu, Port-Royal, Vox, Apex, Musiart, Sélect, Jupiter, Baroque (bought by Everest), JMC – Club musical national (Jeunesses musicales du Canada), Radio-Canada International and later Dorian, Fonovox, Amberola, Atma and Analekta; in the area of contemporary music, a few universities also put out recordings as do institutions such as the Canadian Music Centre (label: Centredisques), and the CBC, and as well a number of record companies, in particular the Allied Record Corporation, Laurentian Records, Janus (which becomes Pirouette and then is bought by Everest), SNE, Atma, Analekta, Ambiances magnétiques and Empreintes digitales.
Gilles Poirier, recording engineer and director of SNE

* Between 1974 and 1980, the artists selling the most 33 rpm records in Quebec are: Ginette Reno, Beau Dommage, André Gagnon, Angèle Arsenault and Harmonium.
* In 1976, Canadian sales reach 295 million dollars (US) worth of records (6th in the world); in the United States, 2737 million dollars (US) (1st in the world); and in France, 538 million dollars US (4th in the world).
* In 1978, America's share of global record production had reaches 40%.
* In 1978 ADISQ is founded, an association representing Quebec companies and professionals of the record, entertainment, and video industries.
* in 1979, 64% of the records bought in Quebec are popular music of different kinds (rock, western, alternative, song).
* Radio and the record industry fall increasingly into line with the logic of the market; by the end of the 1970s there is no more room for content on the radio, it has been replaced by the network or local hit parade ("Top 40").
* In 1980, Canadian record sales by genre breaks down as follows (this list excludes imports, and so underestimates the percentages of classical and jazz):
popular music 72%

classical music 4% (about 5% with a share of imports included)

jazz less than 1% (about 3% with a share of imports included)

country and folk: 7%

youth 2%

other 5%
* The popularity of country music (Western) goes in waves; sales for self-produced albums can reach as many as 15,000 copies; country artists criss-cross the province, playing festivals and small venues, in a parallel network, selling directly to the public; singer Willie Lamothe reaches sales of 250,000 copies for a single title.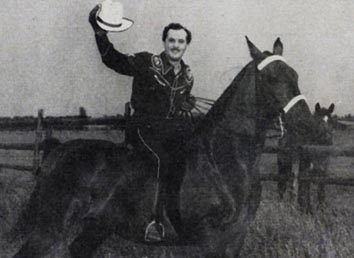 1960-1980
Quebec singers and songwriters:
Gilles Vigneault

Jean-Pierre Ferland
Jean-Pierre Ferland
Claude Léveillé

Pierre Calvé

Georges Dor

Stéphane Venne

Luc Plamondon

Jacques Michel

Diane Dufresne

Louise Forestier

Robert Charlebois

Claude Dubois

Michel Pagliaro

Plume Latraverse

Monique Leyrac

Pauline Julien

Pierre Létourneau
Groups (1960s) :
Les Sinners

Les Mégatones

Les Hou-Lops

Les Classels
Groups (1970s) :
Harmonium

Beau Dommage

Les Séguin

Octobre

Offenbach

Conventum
Adaptations of American hit songs:
Jenny Rock

Donald Lautrec

Pierre Lalonde

Michèle Richard
Traditional music:
Louis Boudreault (violin)

Philippe Bruneau (accordion)

Gabriel Labbé (harmonica)

Paul Cormier "M. Pointu" (violin)

Bertrand Gosselin

Barde

Les Cailloux

Raoul Roy

Hélène Baillargeon
Country:
Jazz:

Classical music:
Louis Quilico

Joseph Rouleau
*Note: the materials cited below are available in French only.

The following interviews relating to the sound history of this period may be consulted at the Phonothèque:

Excerpts of interviews relating to this period of the history of records in Quebec:


Quebec singers and songwriters:

Popular song:
Séance d'enregistrement avec le chanteur Tony Roman – Descombes, Michel, (40'' / 256K), enregistré en 1993
L'implication de RCA dans la production d'artistes québécois– Descombes, Michel, (1'05'' / 406K), enregistré en 1993
Germes du palmarès dans les années 70' et marché de la radio à Québec - Drolet, Roger, (48" / 299K) enregistré dans un café le 23/02/2002

Travail des agents de promotion des compagnies de disques auprès du personnel des stations de radio - Drolet, Roger, (46" / 286K) enregistré dans un café le 23/02/2002
Évolution de l'industrie musicale et collaboration entre les propriétaires de stations de radio et les producteurs - Giroux, Robert, (1' 17" / 474K) enregistré le 29/03/2002

Coût de production de disques dans les années 1960 et 1970 – Leblanc, Marcel, (52'' / 327K), enregistré en 1993

Jazz:

Réédition d'enregistrements historiques- Leduc, Jean-Pierre, (52'' / 325K), enregistré le 21/03/2003

Rencontres de Paul Bley et Diana Krall avec les grands jazzmen- Leduc, Jean-Pierre, (1'08'' / 419K), enregistré le 21/03/2003

A propos de Sonny Greenwich- Leduc, Jean-Pierre, (1'03'' / 393K), enregistré le 21/03/2003

Anecdotes entourant les musiciens Paul Bley et Herbie Spanier- Leduc, Jean-Pierre, (1'13'' / 446K), enregistré le 21/03/2003
Classical music:

New Music and contemporary music:

Histoire de la musique actuelle au Québec - Hétu, Joane, (48" / 68K) enregistré le 07/12/2001


Traditional music:

World music:
Music industry (production and recording techniques):
Conditions de travail dans les studios– Descombes, Michel, (33'' / 216K), enregistré en 1993
Préparation d'une séance d'enregistrement par le technicien et début des enregistrements multipistes– Descombes, Michel, (1'27'' / 538K), enregistré en 1993